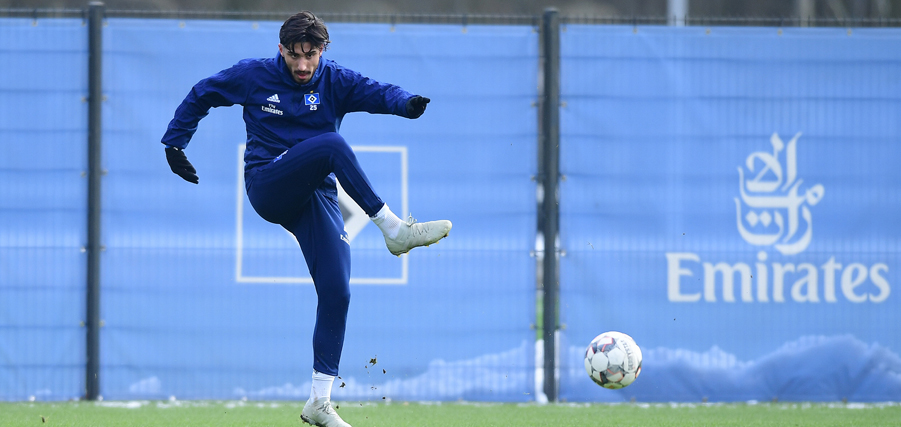 Özcan: "Getting a lot of game time is a huge factor for me!"
NEW SIGNING BERKAY ÖZCAN SPOKE IN A PRESS CONFERENCE ABOUT HIS TRANSFER TO HSV, HIS OLD NEW COACH HANNES WOLF AND HIS PERSONAL TARGETS AT HIS NEW CLUB.
Berkay Özcan has no time to lose. On Thursday (24th January), the 20-year-old completed his mandatory medical in the UKE athletic centre and signed his new contract with HSV at the Volksparkstadion shortly after. The following morning, Ralf Becker's eighth signing of the season completed his first training session in HSV colours. On what was a day off for the rest of the team, the Turk-German youngster took to the training pitches with assistant coach Andre Kilian to work on dribbling, passing and finishing – Berkay has a lot of catching up to do.
Back in November, the forward, who boasts 20 Bundesliga and 21 second division appearances from his four years at VfB Stuttgart, sustained an injury to the Syndesmosis in his ankle. Even before the injury, the three-times Turkey international suffered a setback in the shape of a managerial change at Stuttgart. After the departure of Hannes Wolf, Özcan saw his game time reduce drastically under Tayfun Korkut. This season, he was given no more than 49 minutes on the pitch. Understandably, therefore, getting a lot of game time is of paramount importance for Özcan at HSV.
The 20-year-old spoke to us about this personal target and what role his old and new coach Hannes Wolf will play.
Berkay Özcan on...
... his transfer to HSV: There was multiple discussions between the clubs. It was my desire to join HSV. I made this decision based on the club and not the league they are playing in. HSV is a great club and it has a special relationship with its fans. I have already experienced this as I have already played once before in the Volksparkstadion. I am consequently pleased that this transfer went through.
... his new head coach, Hannes Wolf: Of course the coach played a big role in my decision to join the club. He puts a lot of effort into his work and is therefore a huge role model for me. It is now important for a player to work hard. I know I can achieve a lot with him. He always wants you to give 100% and expects a lot from you. Younger players can especially develop under him.
… his goals: For the time being, the team is the most important thing. The biggest goal is to win promotion. We know that the 2. Bundesliga is a difficult division, which I know from my time at Stuttgart. All the games are hard-fought and tough to win. My personal goals are then the second most important thing. I want to take the next step as a footballer here and play a lot of football. That will be also decisive in my role for the national team.
… his final months in Stuttgart: Of course it was frustrating to not be playing, but part of being a young footballer is sometimes sitting on the bench or missing out on a squad completely. Nevertheless, I did that for long enough and now want to play regular football here.
… his strengths and weaknesses: I don't usually like praising myself too much, but I am very comfortable on the ball. I have a very good technique, a strong first touch and can pass too. I could still improve my headers though, as well as my defensive capabilities. Ultimately I will carry on improving my strengths and not focus on my weaknesses.
... his youth career: I played at centre-back for KSC under Tim Walter (current head coach of Holstein Kiel) when I was 15. I told the coach I didn't want to play there and wanted to play further forward and so I tried the number 10 position. Then I changed club to VfB.
... on the pressure at Hamburg: Pressure is everywhere in football. You can't live without pressure. Of course, the fans here in Hamburg want the promotion and so do we. Although I am still young, I experienced a promotion with Stuttgart from the 2. Bundesliga during my first professional year of football. I hope the same happens here.
... Orel Mangala: I have already played with Orel at VfB. I am happy to see him again now. He is a super player and a great person. We always had a good connection together and always text each other. He is happy that I am here and it's nice to know someone in the team already.