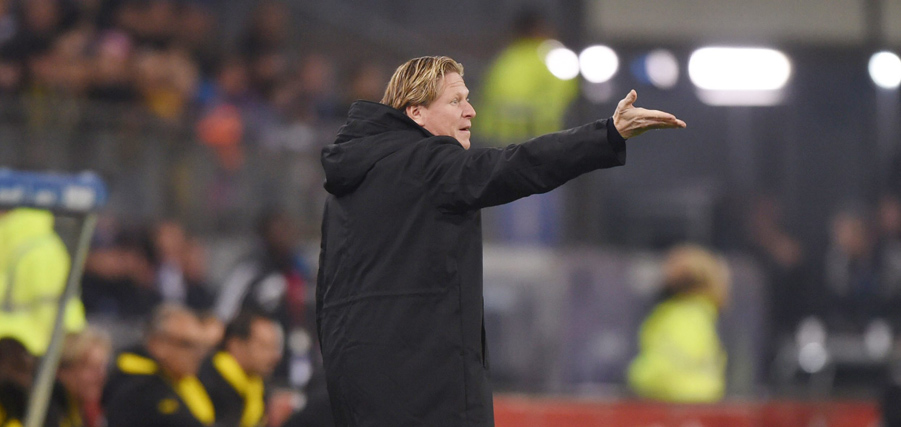 Votes for the match
05.11.16
Gisdol: "Fight our way out together"
HSV had just lost 2-5 at home to Borussia Dortmund. Not hard to imagine how everyone was after the game as HSV.de met them in the mixed zone at the Volksparkstadion after full time.
HSV lost 2-5 at home to Bundesliga runners up Borussia Dortmund on matchday 10 at the sold out Volksparkstadion in Hamburg on Saturday afternoon. The protagonists we spoke to were shell shocked. The Rothosen were poor during the first half and were 0-3 down at the break. In the second half they put into practise what was discussed at half time. Here the post-match reaction.
Nicolai Müller: We are very disappointed, the first half was just awful. There is no explanation for how we could conceded three goals so quickly. We had laid plans, so those blows really hurt. We now have to rebuild confidence by earning some success however small. During half time we said we wanted to score a goal and not lose the second half, which we did. We have to build on that and earning that success.
Dennis Diekmeier: The disappointment is huge. The club has had endured many tough years. Last season was a more stable one and we had made plans for this term, which is why the results so far are very hard to stomach for everyone – the fans, club and of course the players. We have to pull ourselves out of there as a team and I am confident we can do it. Otherwise I would be in the wrong job.
Johan Djourou: We made a lot of mistakes during the opening 30 minutes. I include myself in that. Dortmund found gaps in our defence and caused us major problems by feeding Aubameyang with long balls. Until now we have not shown enough but you have to fight on in football. Only 10 of 34 gameas have been played. We must take the positive with us that we were able to show a good reaction after the break and put Dortmund under pressure at times.
Markus Gisdol: Obviously it is not easy to find words after a game like this. We had made good plans beforehand. But when you concede three goals through individual mistakes in such a short space of time you plans go out of the window. Our team then struggles more when insecurity comes into play. When you are 0-2 down to Dortmund you have to open up and try something, which is exactly what a side like Borussia with their lightning quick men are waiting for. The team still stood together during the break, did not want to be made fools of and had a go after the break. We saw some reaction after the break but when you are 0-3 behind its tough. The whole situation for the club and team is very difficult. Pre-season expectations were simply too high and the reality is in truth that we are fighting for our very existence. We have to accept the situation and fight our way out of it together. That said, congratulations to Borussia Dortmund.
Thomas Tuchel (Borussia Dortmund coach): As always our pre-match focus was on the result. We were aware of recent poor results and that after the international break Bayern visit our place, so winning today was hugely important. We had no choice and that was how we performed. It didn't matter if it was a brilliant sparkling performance or a real old battle. We played very very well and grittily in the first half, before HSV came back at us after the break. The result is a little high. Aubameyang has blown all expectations out fo the water with his goals. An incredible performance from him. Despite that, we are still not in form as everyone can see and there is a lot of work to be done. Today though is not the day for general criticism. I am very satisfied and happy. We really needed it.