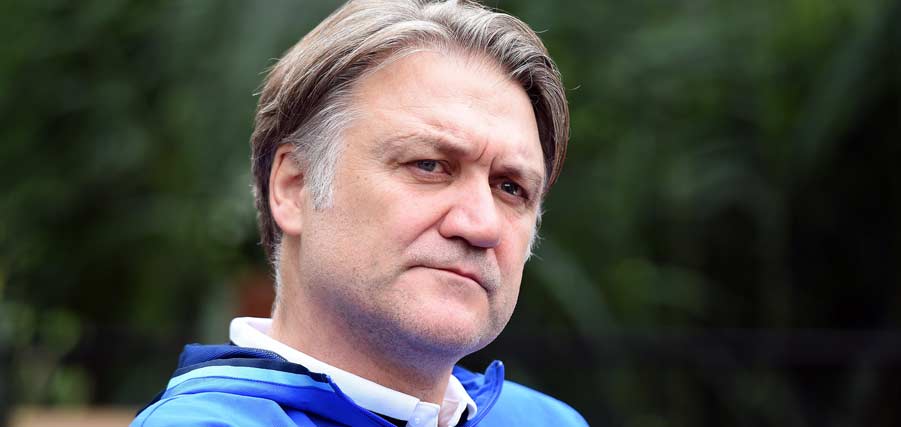 "Good that the next game is so soon"
HSV are in matchday 4 action away to SC Freiburg on Tuesday night (20.09.16, 8.00 PM). Club boss Dietmar Beiersdorfer sees it as a great opportunity to get back on the pitch, give 100% for 90 minutes and take three points home.
Dietmar Beiersdorfer was not to be found at home on Sunday, the day after the 0-4 home defeat to RB Leipzig. The HSV boss was at the Volksparkstadion. He wanted to be involved and held various discussions as well as analysing the current situation. The Leipzig defeat and the fact that the way it came about was similar to the previous two games. The so-called "English week" and how he sees it as a chance at swift redemption due to the lack of time to dwell on last Saturday. HSV.de caught up with the former defender. He spoke on the following topics…
… the RB Leipzig game: We played decently for an hour. Losing to that kind of score must not happen. Even if I view the individual mistakes made late on were not decisive. Still: The defeat in Leverkusen was tough to take but this defeat is a real body blow and one and should never have happened.
… the reasons for the below-par start to the season: We are all unhappy with the results, and that we were not able to see games home after taking the lead and performing decently. We are unable to give 100% for 90 minutes. I see that as a mental problem, because the team is top fit following the tough pre-season period.
… die Ansätze: We begin our games solid and well structured, but we don't create enough quality scoring chances. Against Leipzig we lacked the tenacity to take the lead. In our two previous games we failed to score a second goal after taking the lead and gave it all away in the end. That needs sorting quickly. If we can do that the team will have better results.
… and now?: We now have to work intensely and quickly to find the right mixture of tension and relaxation during training to allow the team to regain trust and confidence. Then the potential is there as we have shown in our games so far. That potential has to be displayed for 90 minutes. We haven't done that so far. If we can do it we will be able to see games home.
… the game in Freiburg: Not much time before Tuesday. Less time to analyse and discuss the previous game. But: It could be a good thing because now everyone has to look forward to Tuesday night. Bruno Labbadia has often shown his ability to pick up a team in a short space of time. He will do so this time again and hopefully we can get the right result by fighting hard and earning three points. We are going to try to play to our full potential and perform well for 90 minutes. That would be very important, not just for the points tally situation but also for the mind.