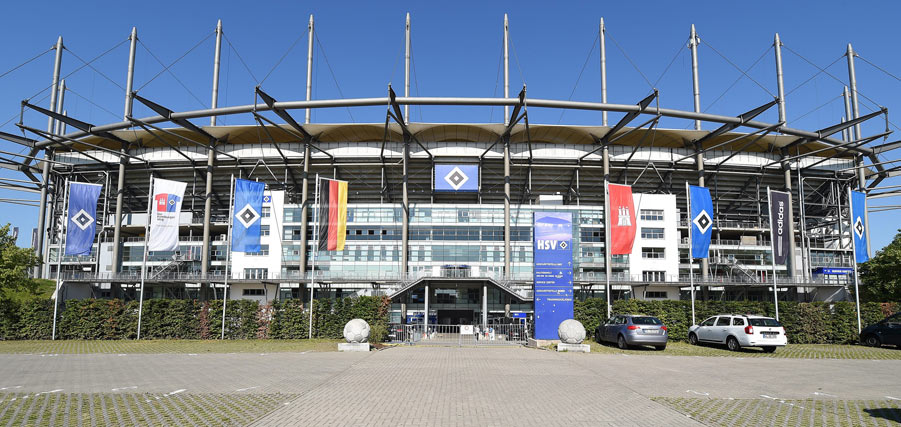 Hamburg city and HSV hope to stage Euro 2024 matches at the Volksparkstadion
The city of Hamburg and the Bundesliga football club have contacted the German Football authorities (DFB) of their interest of being one of the venues for the 2024 European Championships.
After the DFB had formally asked clubs, HSV and the city of Hamburg made their interest clear. Both want to stage 2024 Euro games at the Volksparkstadion – home of the Rothosen.
"Hamburg is a sport-loving city and are investing in the modernising of their infrastructure like sport complexes and sport halls. Hamburg is internationally well known and keen for recognition in European and worldwide sport circles. With that and the fans' love of football as well as experience of the people involved in the rebuilding of the infrastructure, is a good base from where to apply to stage Euro 2024 matches here. Should their be another "fairy tale summer" – how the Germans named the World Cup finals in 2006 – we very much want to be part of it", explained Hamburg city mayor Olaf Scholz,
HSV are keen for the superb Volksparkstadion to be included in the chosen stadia to stage the tournament: "The decision to inform the DFB of our wish to be considered was made quickly. Hamburg is the perfect place for such major sporting events and would be a huge chance for the city and the environment around the Volksparkstadion. We are happy that the city of Hamburg are also interested in the same thing so we look forward to presenting our case together", added HSV board chairman Heribert Bruchhagen.