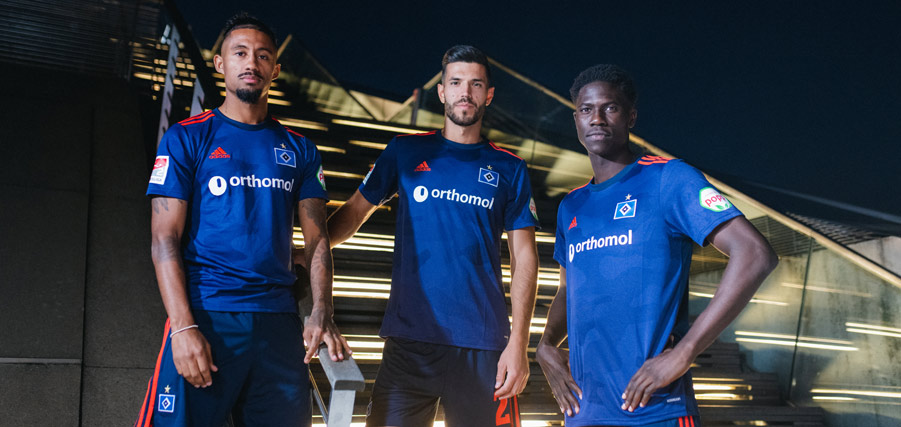 #HamburgerHimmel – the new 2020/21 away kit
Ready for courage – the new away kit is available to pre-order in the HSV online shop.
+++ You can order the kit here +++
A dark blue pattern and details in powerful orange are the main features on HSV's new away kit for the 2020/21 season. A genuine north German kit, inspired by the whole spectrum of the Hamburg weather; from dreamy sunsets to clouds, wind and rain on typical drizzly Hamburg days.
The city is just as diverse as the weather in the Hamburg sky, with 104 different suburbs, its historic buildings directly next to newly built and architectural wonders and naturally the 1.8 million people who call the city home. This diverse and liberal-minded city is the home and drive behind HSV, who will carry these values in the new away kit in the various stadiums and cities in Germany. Ready to give everything for HSV and go through wind and rain for the club. Or, said another way: HSV is #ReadyForCourage!
This HSV away kit is quite simply unique. And that in the truest sense of word, as the cloud pattern varies from kit to kit and ensures that every jersey is truly one-of-a-kind.
The new away shirt can be pre-ordered as of now from the HSV online shop including a free name and number on the back. The delivery time will be 24 working days like the new home kit, due to the printing of the new main sponsor Orthomol on to all of the kits at a later date than originally planned. We will inform you via social media and the club website as soon as the new away kit has been delivered to the fan shops.