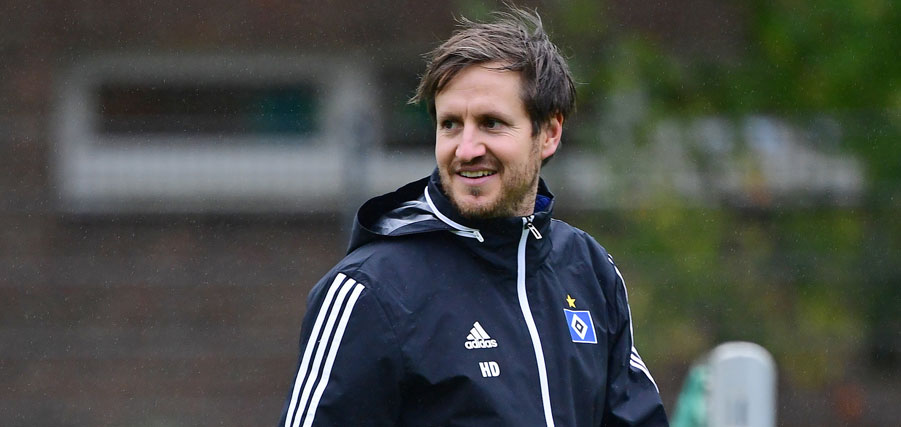 Hannes Drews joins first-team coaching staff
HSV say goodbye to Dirk Bremser and Tobias Schweinsteiger, as last season's under-21s coach Drews supports Daniel Thioune and the first team squad.
The preparations for the start of the new season continue apace, with the first-team coaching staff now fully formed. Hannes Drews, who was the manager of the club's under-21 side in the Regionalliga last season, rounds out the trio, as the executive board fulfil the wish of the new manager Daniel Thioune to add the 38-year-old to his staff.
"Hannes and I have been in regular contact since we completed our UEFA pro licence together. I value Hannes' expertise highly and over time we have built up a trusting relationship," Thioune explains, who along with Drews completed the 62nd version of the DFB's famous 'Fußball-Lehrer' coaching course in 2016. "Both of us are of the same opinion when it comes to the interpretation of the role of the second assistant manager and the tasks associated with such a position. On top of that he knows the club and can also act as a link between the first team and the academy," Thioune added to the future role of his new assistant.
When training begins again at the start of August, Drews will join Thioune and his fellow assistant Merlin Polzin on the sidelines, whilst goalkeeping coach Kai Rabe has been retained in his current role. Until August, Drews will continue to lead training for the under-21 side.
Both assistant managers from last season, Dirk Bremser and Tobias Schweinsteiger, will no longer be part of the club's set-up for the new season. "Daniel Thioune and I had several productive discussions with Dirk and Tobias. During these discussions we came to the conclusion that for the position of the second assistant manager we wanted to enable a closer collaboration with the academy," were Head of Sport Jonas Boldt's parting words to last season's assistants. "I thanked both for their commitment and everything they achieved whilst they were here, whilst also wishing them the best of luck for their next adventures," added Boldt.