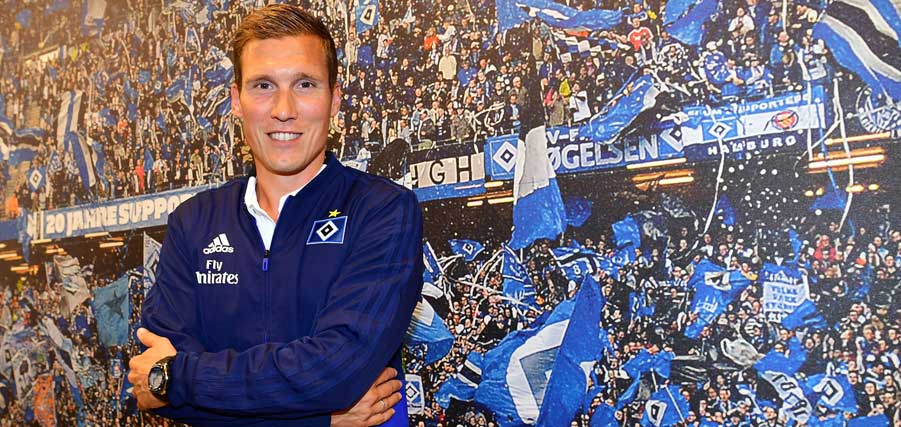 Hannes Wolf: "Fire in my belly"
Hannes Wolf is the new HSV head coach. At his official presentation, the 37-year-old spoke about his new challenge, his working methods and the second division.
On Tuesday afternoon, 37-year-old Hannes Wolf, whose most recent position saw him lead VfB Stuttgart to automatic promotion as Bundesliga 2 champions, officially took over from Christian Titz in the HSV dugout on Tuesday afternoon. His first game in charge will be this coming Friday away at Magdeburg (18:30 kick off).
Before taking his new team for their first training session under the new boss, Hannes Wolf hosted a press conference to officially introduce himself to HSV. "I am pleased that the club has put this trust in me – I can hardly wait to get to know the team and start getting down to work."
Wolf on...
... his new challenge: Over the last few weeks and months I've been thinking what the next step is for me personally. When HSV called it didn't take me long to decide, even though I am fully aware that the second division poses a tough challenge. This club has huge potential – I am ready for the challenge. There's fire in my belly.
... the second division: The second division is a big challenge. We won't gain promotion by talking about it today, but by facing the challenge head on with intensity and power. We need to be sharp and consistent for the entire 90 minutes in every game. That's our task for the coming weeks and months: This is the only way we can achieve our targets.
... his approach: Internal talks within the team will begin right away. It will be important to find an understanding. We will try to bring each player's quality onto the pitch as quickly as possible, and I will be introducing my ideas to the team step by step, since the first game is not far off. I am really excited to start making progress with the lads.
... the lack of time until his first game: We want the team to be fit for their next game. That doesn't mean we're going to train so much so that no one will be able to walk by Friday. We will be running the remaining sessions appropriately and address the most important aspects for the coming game.
... the outlook on the next opponents: I've already started watching Magdeburg's games, but most of my attention is on my new team. We will analyse our opponents and work on the most important aspects in training. We want to strengthen the team and prepare the team as best we can.