Heidenheim welcome Hamburg for decisive promotion scrap
HSV's last away game of the campaign sees the Rothosen head to fourth-placed Heidenheim on Sunday (kick-off 3:30pm) in a game that will go a long way to deciding the fate of both teams.
Two games left to play in the 2. Bundesliga and it's still all to play for. One thing is certain, as the Rothosen's 1-1 draw with Osnabrück on Tuesday confirmed Arminia Bielefeld's return to the top flight after eleven years away, before Arminia's 1-0 win over Darmstadt on Thursday evening confirmed the East Westphalians as second division champions for the 2019/20 season. Three teams remain in the hunt to join them in the promised land, and, with two matches to go, all options are still possible. Two of the teams in the hunt, third-placed Hamburger SV and fourth-placed 1. FC Heidenheim meet on Sunday at the Voith-Arena, as both look to land a knockout blow and improve their chances of automatic promotion or taking part in the play-off.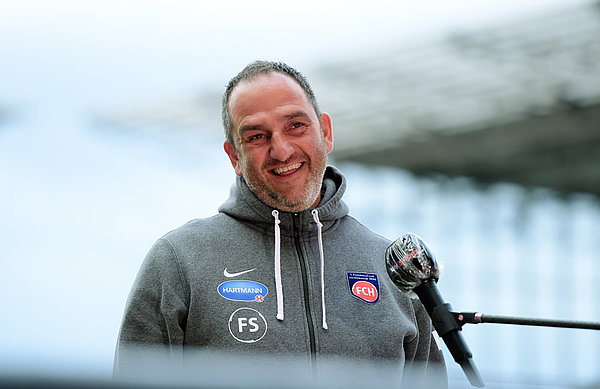 Focus on the hosts
Playing in the fifth tier of German football as recently as 2008, 1. FC Heidenheim's rise up the footballing pyramid has been both remarkable and rapid. Manager Frank Schmidt has been with the club since 2007 and has established the Brenzstädter in the second division since promotion in 2014/15, only missing out on the promotion play-off spot by two points last season. 46-year-old Schmidt wants to go one better this time out and, after an inconsistent start to the campaign, his charges established themselves as the fourth horse in the race for promotion, most clearly with a 1-0 win at the Volksparkstadion in December, making it apparent to the Rothosen that they were not to be discounted. The Red, White and Blues have carried on their inconsistent form since the restart, similarly to Hamburg and Stuttgart in front of them. Schmidt's team have won all three at home, against Wiesbaden, Aue and Regensburg, but haven't been able to win away, losing to Bochum and Hannover, and drawing against St. Pauli and most recently to Greuther Fürth on Tuesday evening.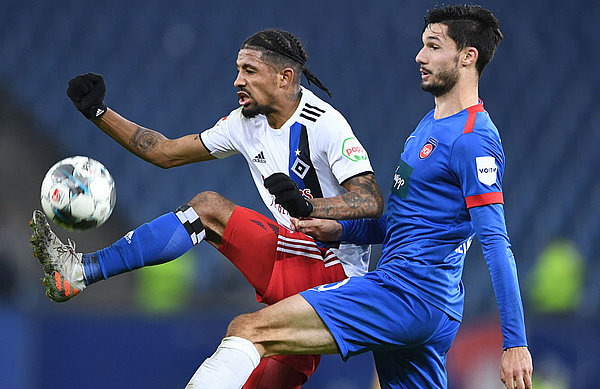 Opposition scouting report
The Brenzstädter's promotion charge has been built off the back of their home form, only sitting in third behind Stuttgart (38 points) and Hamburg (34 points) due to having a goal difference which is one worse than the Rothosen. Ten wins, four draws and two losses have been recorded at the Voith Arena, with their last loss coming against VfL Bochum on Matchday 9, and having won their last four in a row. Defensive solidity and throwing everything into every game have served the club from Baden-Württemberg well, as no side has conceded less goals at home than them in the league (12), and themselves (32 conceded) and leaders Bielefeld (27 conceded) are in a league of their own when it comes to denying the opposition scoring opportunities. The statistics are even more frightening when discounting the first five home games, when seven goals were conceded, as the following eleven only yielded five for visitors to the Voith-Arena.
Having played with a 4-2-3-1 formation for the majority of the season, Schmidt has changed tack slightly in the past two games (4-1 home win over Regensburg and 0-0 in Fürth), opting for a more attacking 4-4-2 formation. Mr. Heidenheim Marc Schnatterer, who has climbed the pyramid with the club, has been injured for the past two outings and arguably not as dangerous this season as in seasons past, and Heidenheim have adapted accordingly. Adrian Fein's Germany under-21 teammate Niklas Dorsch has garnered praise for his performances so far this campaign in defensive midfield, at the bottom of the diamond with Robert Leipertz (eight goals, two assists), Konstantin Kerschbaumer (two goals, two assists) and 21-year-old David Otto (one goal, six assists) at the top of the diamond. The dangerman for the Hamburg defence is clear though, with Tim Kleindienst having set up the only goal of the game in December in Hamburg, and having been involved in 19 more since his move to Heidenheim from Freiburg last September. In a game of such importance and with Heidenheim's imposing defensive record, it is likely that it will be a tight and low-scoring affair, as the Rothosen will have the lion's share of the ball, with the home side looking to hit on the counter and threaten from set pieces with their height and physical presence.
Dieter Hecking on Heidenheim: "In Heidenheim they work very professionally given their modest budget. They have a manager who understands how to set up a team who will throw everything into a game, a characteristic that sets them apart."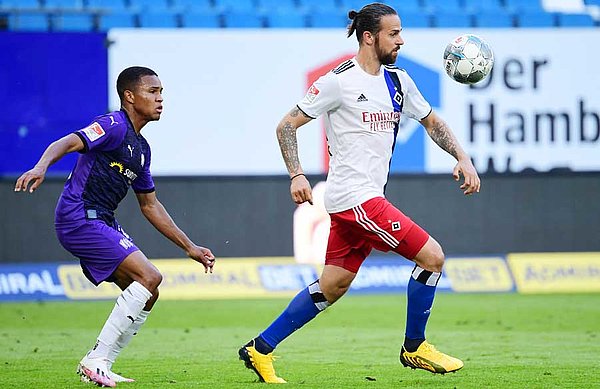 All fit and raring to go for final Hamburg away day
Dieter Hecking confirmed at Friday's pre-match press conference that all players were available to travel on Saturday in preparation for Sunday's game, meaning Jordan Beyer and Khaled Narey had recovered from their respective injuries to be possibly named in the squad. As for the mentality in the squad, Hecking revealed: "Of course there's passion amongst the lads, they want to win on Sunday. In training there was the exact thing that we wanted: fight." The fight was little to be seen on Tuesday evening, as a first-half strike from Martin Harnik was cancelled out by Osnabrück's Moritz Heyer just before the hour mark in a turgid second-half display. The draw meant that Stuttgart (55 points) leapt back into second position after their win against Sandhausen, ahead of Hamburg (54 points) and Heidenheim (52 points), who can overtake their guests on Sunday with a victory. Ultimately, it all comes down to which team can hold their nerve in a tension-filled ending to the race for promotion.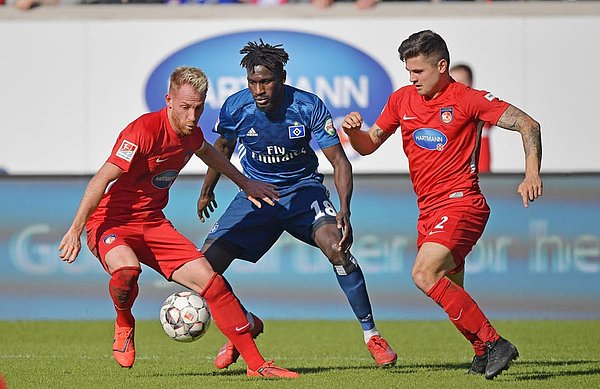 Matchday facts
Hamburger SV and Heidenheim have only met in the 2. Liga since the Rothosen's relegation in 2018. In all three games, Heidenheim have gone 1-0 up, but were only able to keep this lead in December at the Volksparkstadion, last season they could only manage a draw and a loss after going ahead.
Heidenheim have conceded 32 goals in 32 games this season, a club record in the 2. Liga after this many games. They also have 15 clean sheets, the most in the division.
After four winless away games, Hamburg won their most recent fixture away from home, a 1-0 win in Dresden. However, HSV have conceded 24 of their 39 goals on the road.