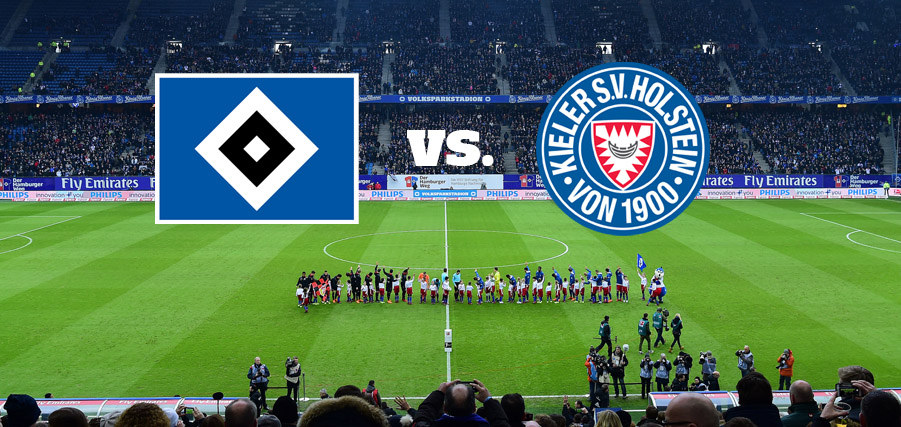 pre match report
03.08.18
Historic season opener against Holstein Kiel
In the run-up to the first second division match in the club's history, the excitement is rife amongst both the fans and the club itself. However, the key to a good start to a campaign lies in keeping a grip on reality and keeping confidence under wraps.
When the new Bundesliga 2. season kicks off tonight at 20:30 CEST at home against Holstein Kiel, 83 days and three hours will have passed since Hamburger Sport-Verein lost their top-flight status for the first time ever. Yet a lot has happened in the 83 days since the darkest hour in the club's history. As 50,000 Hamburg loyalists belted out "Mein Hamburg lieb ich sehr" around the ground, as the players exerted every ounce of energy on the pitch against Gladbach as they had done week in week out, as every fan up to the rafters welled up with sadness yet pride, it was clear that such a heavy low would make way for a new, exciting chapter for HSV.
Youngest squad in top two divisions
Over the last 83 days, the path ahead has been set out in earnest. 13 players have either left the club or not renewed their contracts. With Gotoku Sakai, Aaron Hunt and Lewis Holtby signing on for the coming season, the club has three experienced Bundesliga players committed. Fiete Arp, one of the most exciting current youth prospects, has also agreed to stay. New signings Khaled Narey, Christoph Moritz, Jairo Samperio, Manuel Wintzheimer and David Bates alongside ten hungry academy graduates from the U19s and U21s have bolstered the squad even further. With an average age of 22.9, HSV have the youngest squad of any first or second division side in Germany and possess an enormous amount of potential. In Christian Titz, they have a coach who can unlock that potential. "I am someone who puts a lot of faith in young players. But a mixture is certainly vital", he said in a recent interview.
Ability over age will be the deciding factor in selection. The players must also adapt to the coach's footballing philosophy. Possession, quick link-up play and versatility will be the crucial components for success and for an attractive playing style. In preseason, this was put on show with particular success during the 5-1 thrashing of Aarhus. A record of seven victories from eight friendlies, including wins over Champions League competitors CSKA Moscow (1-0) and Monaco (3-1) have set up the season in style.
A full house & a missing Hunt
The reality of life in the second division will become quickly apparent : "In the Bundesliga 2., there are no easy games. I expect full commitment and engagement from all my players", emphasised Titz during a press conference in the build-up to today's game. We must have total respect for the task at hand, despite the radiant excitement of the fans. Since being relegated, HSV has welcomed 7,500 new members. 84,200 members is a new record for the club. Over 25,000 season tickets have been sold, which is just as many as last year. The home match against Kiel has been sold out for weeks. "It is great to see that we have such an amazing fan base and it gives us a lot of pride. In any case, we've been advised that Kiel and the other upcoming opponents will prove very tough competitors", stressed Titz.
Moritz, Pollersbeck, Narey, Holtby, Lasogga, Michel and Ferati have a combined sum of 256 Bundesliga 2. caps. Only Aaron Hunt, the club captain, will be missing from the contest against Kiel due to a calf injury. "It's a great shame, but we have a lot of faith in other members of the squad", said Titz, backing up the young players once again. Courage will be another key component over the coming weeks. "Football remains a hugely psychological game. A victory can give you huge confidence. That is our simple goal", Titz hammered home. Three points in the first second division game in club history would justify all the hard work done over the past six weeks and further soothe the wounds inflicted 83 days ago.
Squad for the match:

Goalkeepers: Pollersbeck, Mickel; Outfielders: Bates, David, Douglas Santos, Ekdal, Holtby, Ito, Janjicic, Lasogga, Moritz, Narey, Sakai, Samperio, Steinmann, Vagnoman, van Drongelen, Wintzheimer

Possible Holstein Kiel line-up: Kronholm - Herrmann, Schmidt, Wahl, J. van den Bergh - Mühling, Meffert - Schindler, J.-S. Lee, Honsak – Serra
Referee: Marco Fritz