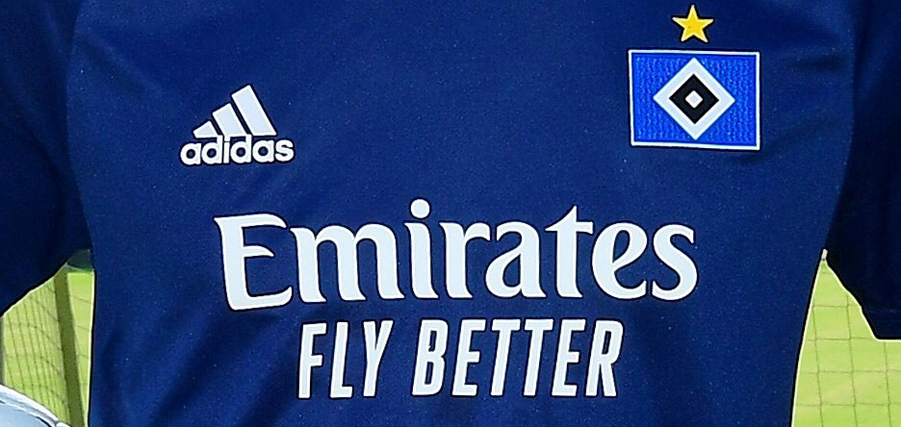 HSV and Emirates extend partnership
The airline will remain the main sponsor until the end of the 2021/22 season.
The HSV Fußball AG and Emirates will continue their partnership—which was established during the 2006/07 season—for another three seasons. The international airline will remain the main sponsor of the Rothosen until the end of the 2021/22 season.
The long-time partner will feature on the first-team jerseys with the "Fly Better" logo for the 2019/20 season. The agreement also includes the presence of the logo on the advertising boards and in the players' tunnel in the Volksparkstadion, as well as an exclusive ticket and hospitality allocation. Emirates will also remain a partner of the HSV charity "Der Hamburger Weg."
"We are proud to have extended our partnership with Emirates. It's an impressive commitment and sends a strong message in regards to our collective future. Emirates are one of the biggest brands in sports," said Bernd Hoffmann, the chairman of the HSV Fußball AG.
"Our jersey partnership with HSV is one of the longest-running in German sport," said Volker Greiner, vice-president North & Central Europe. "HSV are a strong brand with a significant and loyal fan base, as well as being a key figure in German football history. By renewing our partnership agreement we are making clear our passion for football as well as our commitment to sport fans, and especially to our clients and community in Germany."
The renewal of the partnership agreement was the result of close collaboration with Lagardère Sports Germany GmbH. "The renewal of the partnership clearly shows how successful the partnership between two big brands has been—both of whom wished to increase their public presence," said Hendrik Schiphorst, the executive vice-president Football Germany at Lagardère Sports. "We are proud to help further develop this one-of-a-kind relationship over the coming years."
Emirates are the largest international airline in the world, and is the longest-running jersey partner in the over 130-year history of HSV, as well as one of the longest-running partnerships in international sport. The airline, which is headquartered in Dubai, connects sports fans around the world and supports various sporting as well as cultural events around the globe. In addition to their involvement with some of the most well-known European football clubs, Emirates are also the official airline of various international events and tournaments in golf, tennis, motor- and equine sports.