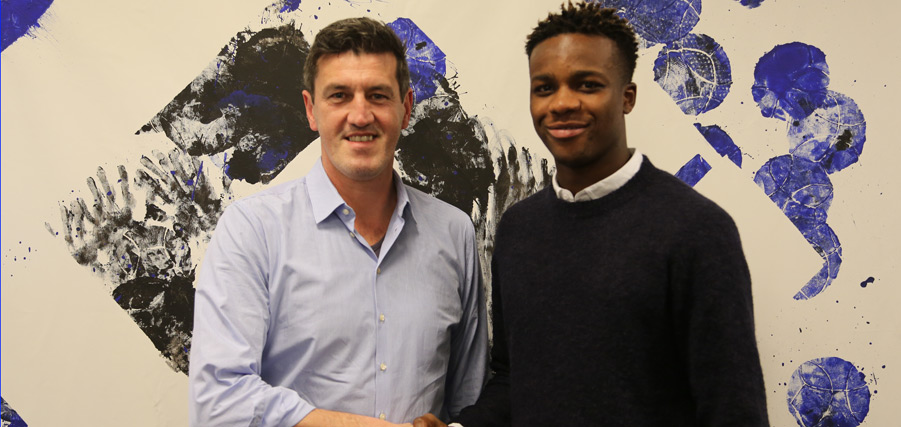 HSV and Gideon Jung extended contract until 2022
Hamburger SV have extended defensive midfielder Gideon Jung's contract until the summer of 2022. "Gideon has developed immensely since arriving at us," Jens Todt, HSV's sporting director, said.
Gideon Jung is a perfect fit for Hamburger SV. HSV rewarded the 23-year-old with a two-year contract extension on Monday with this in mind. It was due to run out on 30th June 2020 but will now run until the summer of 2022. "Gideon has shown a huge development whilst being at the club and he has established himself as a first-team regular in the Bundesliga. He is a player who always gives his all for the team. We are really happy that we could tie him down to a long-term contract and be there every step of the way with him as he takes his next steps in his career," sporting director Jens Todt explained.
Jung was delighted about the contract extension: "I have been given the chance to get minutes in the Bundesliga at HSV. I have gained a lot of experience in the last few years and I am really happy to be able to continue my career at HSV."
From Bundesliga debutant…
In the 2014/15 season, the Düsseldorf-born transferred from Regionalliga side Rot-Weiss Oberhausen to Hamburger SV and has been a role model for the constant and successful development of a youth player ever since. In his first year in Hamburg, Gideon played for the Rothosen U23 side in the fourth division (Regionalliga Nord) and was brilliant in his 23 appearances (2 goals) for the team.
The next logical step was the promotion to the first team, where he passed his opening test as an all-rounder deployed at centre-back or defensive midfielder with flying colours. Jung celebrated his first top-flight appearance as part of the starting XI for the Bundesliga opener on 14th August 2015 against German record champions FC Bayern Munich. In his first season, he made 18 further appearances, starting 12 of them. The defensive player with Ghanaian heritage then became a first-team regular in the 2016/17 season, playing 29 and starting 26 of those games.
…To a leading light for HSV
But he didn't stop there – Jung has made his mark on an international stage and won the European Championships with the Germany U21s this summer. "For me that was the icing on the cake of a good season. The whole tournament was a great and unforgettable experience," the 23-year-old said in pre-season. And in pre-season, Jung took his next step in his development, which has been continuous since his arrival. In the first third of the season, the 6ft 2 defensive rock has blossomed into a key player for the Rothosen and has received praise from head coach Markus Gisdol: "Gideon Jung has been our best and most consistent player for weeks. Without a doubt he has been – in whatever position he has played. He is becoming a leading player at HSV."
Of all games, in his fifth game against the giants from Munich in which Jung had one of his best games in a Hamburger SV shirt, he received a controversial red card after a foul on Coman – his first in 122 professional games. The two-game ban that followed is now over and he can continue his development after his suspension. As well as continuing his development, the Hamburg fans will hope Gideon Jung can continue to bring them joy in the away game at Gelsenkirchen as well as in the coming years with his courageous and reliable performances.