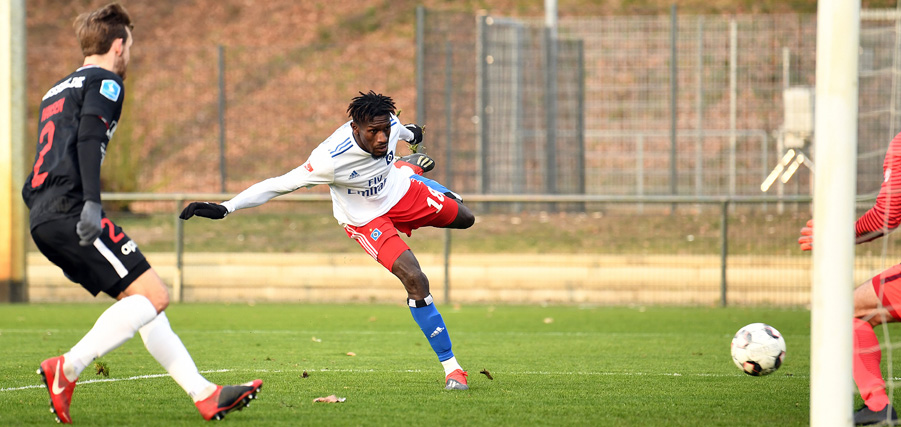 HSV beat FC Midtjylland 5-3 in friendly
Jatta (35'), Narey (42'), Lasogga (69'), Moritz (83') and Bates (106') were all on the scoresheet for HSV in the club's final friendly game.
With a week to go until Hamburg's first competitive game of the calendar year against SV Sandhausen (30th January, 20:30 CET), the club faced Danish champions FC Midtjylland in a friendly. The two sides played a 135-minute game split into three 45-minute parts on the training pitches at the Volksparkstadion, with HSV winning 5-3 (2-1, 4-2). Jatta (35'), Narey (42'), Lasogga (69'), Moritz (83') and Bates (106') scored the goals.
Lots of goals despite the cold
On an icy pitch in temperatures of just four degrees, Hamburg began the game pressing very aggressively. However, the Danish side knew how to play out and scored the first goal of the game. Da Silva crossed from the right and Mayron George put his side in front (19'). Bakery Jatta equalised from a cross (35') and Khaled Narey scored seven minutes later (42'), meaning that HSV led the game 2-1 after the first third.
Hamburg continued to attack after the break, but it was again Midtjylland who scored the first goal. Erik Sviatschenko got his side back on level terms after a good save from Pollersbeck (61'). Pierre-Michel Lasogga then got his goal, scoring a header from a free-kick (69'). Christoph Moritz's left-footed strike put HSV further in front (83'), and David Bates scored a fifth from close-range (106'). FC Midtjylland then got a consolation goal, with Bozhidar Kraev scoring his side's third of the game (126'). The game ended 5-3.
"It was a good friendly. You could see that the freshness is back and we're back at the right level. It was 20% faster than in the training camp, which was normal at the time due to the amount of training. Both sides were offensive, but we allowed them too much defensively and we'll work on that," said Hannes Wolf following the game.
Match details:
HSV: Pollersbeck (91. Mickel) – Sakai (69. David), Jung (69. Bates), van Drongelen (69. Lacroix), Santos (69. Vagnoman) - Mangala (69. Janjicic) - Narey (69. Opoku), Holtby (69. Steinmann), Ito (69. Moritz), Jatta (69. Wintzheimer) - Lasogga (69. Arp)
Goals: 0:1 George (19.), 1:1 Jatta (35.), 2:1 Narey (42.), 2:2 Sviatchenko (61.), 3:2 Lasogga (69.), 4:2 Moritz (83.), 5:2 Bates (106.), 5:3 Kraev (126.)
Referee: Tobias Stieler