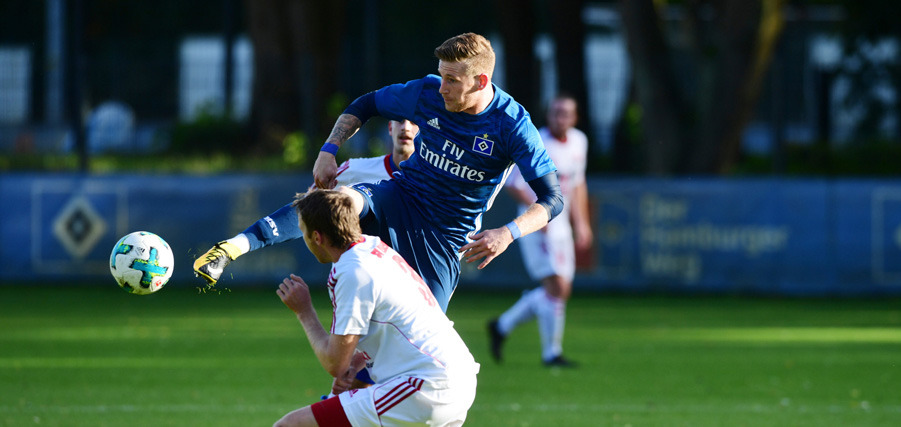 HSV beat SV Rugenbergen 13-1 in friendly
Andre Hahn and Sven Schipplock score five goals each against the fifth-tier club. Lewis Holtby, Aaron Hunt and Christian Stark also get on the scoresheet for the Rothosen.
Hamburger SV have won a friendly against fifth-tier side SV Rugenbergen 13-1 during the international break. Coach Markus Gisdol's team were initially caught out when Pascal Haase took the underdogs into an unlikely lead in the fourth minute after an assist from SVR captain Hendrik Rühmann. However, that was the only flaw in HSV's performance, who dominated from then on. Hamburg worked hard to create a dozen chances in the first half alone thanks to Aaron Hunt and Tatsuya Ito's creative play and converted more than half of those opportunities. Andre Hahn, who was playing alone at the front scored five (10', 32', 35', 39', 45') including a spectacular volley. It was a good day to have a surname beginning with H, as the other two first-half goals were scored by Aaron Hunt (27') and Lewis Holtby (43').
Another half, another player scores five
Gisdol brought on five pairs of fresh legs for the second half – youngsters Leon Mundhenk, Stephan Ambrosius, Khaled Mohssen and Moritz-Broni Kwarteng as well as forward Sven Schipplock. The Rothosen's dominant performance didn't slow down, even if they had to wait for the next goals; the first came from a Schipplock penalty in the 70th minute to make it 8-1. The 28-year-old then upped the ante and scored four further goals (72', 76', 83', 87') to equal Hahn's tally. Christian Stark helped the case for players with surnames beginning with S, as he scored a goal to become the only player other than Schipplock to score in the second half.
Coach Gisdol was very pleased after the final whistle and drew a positive conclusion: "It was a fantastic friendly, which was also very entertaining. The boys played with a lot of passion today and that's where all our goals came from. Scoring goals is always a good confidence booster. We wanted to try a few things out today, test out Hahn up front and Ito on the right-hand side, therefore, it was important for all the lads to play well after an intense week."
The match in short:
HSV: Pollersbeck – Diekmeier (46' Mundhenk), Jung (46' Ambrosius), Knost, Douglas – Walace (68' Haut), Holtby (46' Mohssen) – Ito (46' Kwarteng), Hunt (59' Stark), Jatta – Hahn (46' Schipplock).
Goals: 0-1 Haase (4'), 1-1 Hahn (10'), 2-1 Hunt (27'), 3-1 Hahn (32'), 4-1 Hahn (35'), 5-1 Hahn (39'), 6-1 Holtby (43'), 7-1 Hahn (45'), 8-1 Schipplock (70' pen.), 9-1 Schipplock (72'), 10-1 Schipplock (76'), 11-1 Schipplock (83'), 12-1 Stark (85'), 13-1 Schipplock (87').