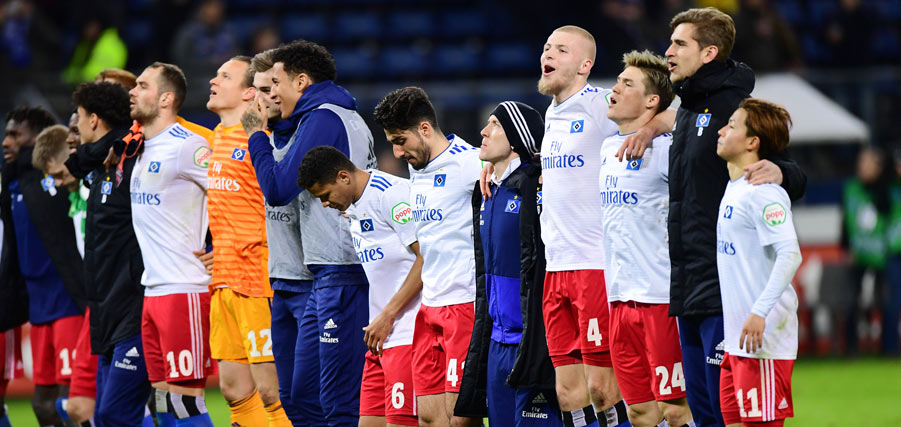 Pre match report
15.03.19
HSV buoyed for sell-out Darmstadt clash
Hamburger SV will be brimming with confidence from the city derby going into Saturday's home game against Darmstadt 98, and they will have a full house cheering them on too.
When referee Florian Badstübner blows the whistle for kick-off in HSV's home game against SV Darmstadt on Saturday (12:45 CET), it will mark the end of a long wait for many Hamburg fans. At last, the supporters will be able to see their team play at the Volksparkstadion at a 'normal' time again. After all, the last home fixture that kicked off before 18:30 CET was way back on 21st October 2018, when Die Rothosen hosted VfL Bochum on matchday 10, a whopping 145 days ago. Alongside the sold-out away trips, there have been home matches on Monday evenings (Köln, Union, Dresden, Fürth), one on a Wednesday night (Sandhausen) and one on a Friday night (Paderborn). Even the DFB-Pokal tie against Nürnberg took place at 18:30 CET on a Tuesday.
EVENING GAMES NOT IDEAL
"The run of evening games hasn't exactly been easy for the fans," said Hannes Wolf, who can't wait to have over 53,000 supporters cheering the boys on tomorrow. Interest in the game was already high prior to the derby win over St. Pauli. "I think the kick-off time is the main reason. The fans will certainly come to the stadium with an extra spring in their step after the derby though. It's important for the team and the fans to have a strong bond going into the final third of the season," explained the coach.
"Of course it's up to us to keep the fans entertained with our football. Last weekend, we took a big step in terms of strengthening that bond and we aim to do the same again against Darmstadt," said Wolf. The last five games at the Volkspark have all resulted in HSV wins (1-0 vs. Paderborn, 2-1 vs. Sandhausen, 1-0 vs. Dresden, 1-0 vs. Fürth, 1-0 vs. Nürnberg). Die Rothosen are currently on an eight-game unbeaten run at home in the league (W5, D3).
KEEP MARCHING ON
The 4-0 win at St. Pauli unsurprisingly raises expectations for the meeting with strugglers on the road Darmstadt (D3, L7 in last 10 away games). That in turn increases the danger of disappointing too though. "If you start thinking that you can afford to take your foot off the gas, then you will suffer," warns Wolf. "You need to keep working just as hard and maintain the level of desire – that is our job. We need to keep the intensity high, hold our shape and stay compact. Only then can we kick on from the derby win," said the coach.
Rick van Drongelen also knows that HSV have a tough task ahead of them against the Lilies. "One of our goals was to win the derby, but that was just a small part of our bigger target. The same goes for the Darmstadt game. Every matchday is special. The atmosphere is always something else and there are always three new points up for grabs. You have to leave everything you've got out on the pitch," said the Dutchman, who will be hoping to help the team to their twelfth clean sheet of the season, coupled with a goal or two at the other end ideally.
HSV will have to do it without captain Aaron Hunt though, after he picked up a hamstring strain in the derby. Hannes Wolf will also be without long-term injured players Hee-chan Hwang (torn muscle tendon) and Josha Vagnoman (ligament tear), while Kyriakos Papadopoulos and Jairo Samperio are still working their way back to fitness.
"HAMBURG WON'T UNDERESTIMATE US"
In Dimitrios Grammozis, Darmstadt 98 have had a former HSV player in charge for the last two matches. Their new head coach took over from Dirk Schuster, who left the club after one win in ten games and with Darmstadt in 14th in the table. Grammozis picked up his first win in his second game in charge, beating Holstein Kiel 3-2.
"We want to show the fight and willingness to play that we showed against Kiel," said the 40-year-old in his press conference ahead of the game. Hamburg's recent form against Darmstadt also makes for positive reading for Grammozis. The side won 2-1 in the Volksparkstadion: "The game will still be on the players' minds. Hamburg won't underestimate us," said the coach, who is hoping that Victor Palsson will be available for the game. Palsson didn't train with the team until Thursday due to illness. Marcell Heller has also only been able to take part in some of Darmstadt's training. Christian Moritz, who is on loan at Darmstadt from HSV, is out of the game with a shoulder injury.
Over 53,000 fans are expected in the Volksparkstadion tomorrow, with around 2,000 from Darmstadt.
HSV Squad: Pollersbeck, Mickel, Arp, Bates, David, Douglas Santos, Holtby, Ito, Janjicic, Jatta, Jung, Lacroix, Lasogga, Mangala, Narey, Özcan, Sakai, van Drongelen
Predicted SV Darmstadt 98 lineup: Heuer Fernandes, Herrmann, M. Franke, Wittek, Holland, Palsson, Kempe, Heller, Mehlem, Bertram - Dursun
Referee: Florian Badstübner (Windsbach)