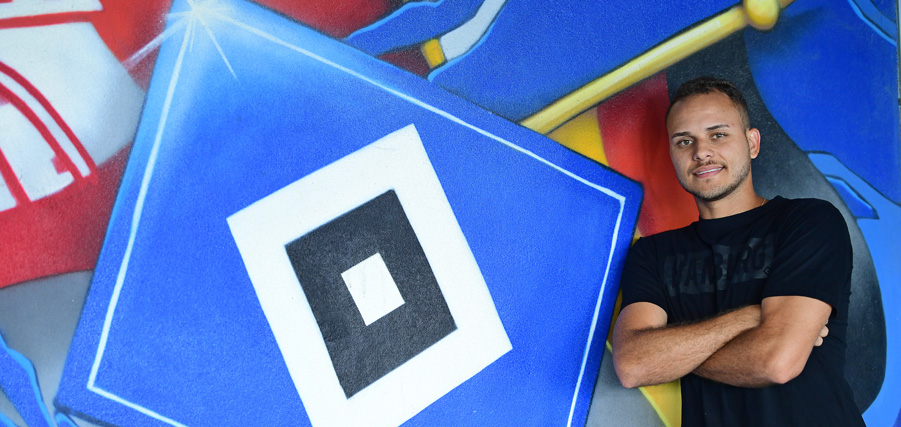 HSV complete signing of Ewerton
The 30-year-old centre back joins the club from 1. FC Nürnberg and signs a two year contract for the Rothosen.
It's finally official: Ewerton becomes HSV's ninth signing of the summer transfer period, after arriving from fellow 2. Liga team 1. FC Nürnberg. The 30-year-old centre back successfully passed his medical last week in Hamburg at the UKE Athleticum and has now signed a two year contract, keeping him in Hamburg until the 30th June 2021. "We are more than happy to add a very experienced player to our squad in Ewerton. He knows the second division very well, has already left his mark on the league and will definitely bring stability to the centre of our defence. His ability in the air as well as his general calmness at the back will certainly stand us in good stead" added Head of Sport Jonas Boldt to the signing of the Brazilian.
Ewerton himself is also happy about signing for HSV and is looking forward to the role he's been given within the club. "I'm happy to be here at HSV and am looking forward to getting started on the pitch. As a centre back you're automatically already a leader. You're responsible for the organisation of the team on the pitch and always have to give your teammates instructions." The 30-year-old continued: "Inevitably you have a lot of responsibility but this is something that I thrive on."
Ewerton, or Ewerton Jose Almeida Santos to give him his full name, has been playing in Germany for the past three years, after learning his trade at several clubs in his homeland, before spells in Portugal and Russia. During the 2016/17 season the Brazilian became a regular in the starting line-up of second division side 1. FC Kaiserslautern and earnt himself a permanent move to 1. FC Nürnberg from Sporting Lisbon as a result. During the past two seasons the 1.88m tall defender played a key role for Nürnberg, completing 50 games for the club before his move up north.
Factfile:
Name: Ewerton
Date of birth: 23rd March 1989
Place of birth: Penedo, Brazil
Height: 1.88m
Position: Centre back
Past clubs: SC Corinthians Alagoano (2009-10), ASA (2010 Loan), Oeste FC (Loan), Sporting Braga (2011-12), Anschi Machatschkala (2012-15), Sporting Lisbon (2015-16), 1. FC Kaiserslautern (2016-17 Loan), 1. FC Nürnberg (2017-19)
1. Bundesliga Games/Goals: 18/-
2. Liga Games/Goals: 52/1