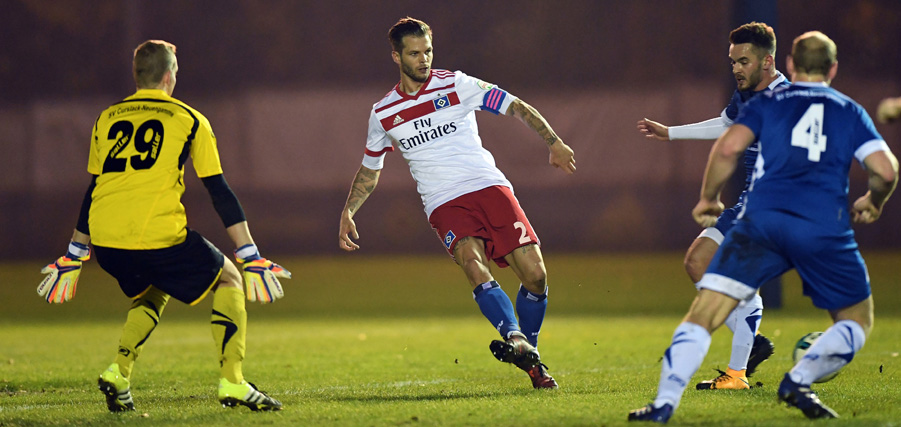 HSV defeat SV Curslack-Neuengamme 6-0 in friendly encounter
Both Luca Waldschmidt and Sven Schipplock scored a brace against the Oberligist side, SV Curslack-Neuengamme, on the way to a 6-0 win. Tatsuya Ito and Marco Drawz were also on the scoresheet for the Rothosen.
HSV beat SV Curslack-Neuengamme in an international break friendly. Head coach Markus Gisdol's side dominated from the onset against the Hamburg Oberliga team, getting the opener with only three minutes on the clock, Luca Waldschmidt converting after good work from Andre Hahn. Tatsuya Ito quickly added a second in spectacular fashion, showing off sensational dribbling skills before finding the top-right corner with a sweet strike. HSV didn't hold up after notching the second, and Schipplock, Douglas and Waldschmidt then had chances to increase the tally, before Waldschmidt finally made it three before half-time from a Diekmeier pass.
Different half, same story
Julian Pollersbeck replaced Mickel in goal at half-time, but otherwise the Rothosen started the second half with the same team. Mickel had had little to do in the first 45, but made a brave save in a one-on-one situation against Curslack's Collins Folarin. HSV took their foot off the pedal a little in the second half, but two from Schipplock and a late goal from youngster Marco Drawz completed the victory.
The match was an opportunity for members of the youth squad, Stephan Ambrosius, Tobias Knost, Josha Vagnoman, Mats Köhlert and Marco Drawz, to make an impression. "It was fascinating to watch the young players come in and play against adults. They have a lot to offer – it's always interesting to see their progress," said Markus Gisdol, "but apart from that it was a normal friendly, where we were able to try out different tactics."
The Rothosen will work on fitness and in the gym on Friday, but will have the weekend off before training starts again on Monday morning.
Match stats:
HSV: Mickel (46' Pollersbeck) – Diekmeier (76' Jatta), Ambrosius, Knost, Douglas (59' Vagnoman) – Walace (76' Köhlert), Jung – Ito, Waldschmidt, Hahn – Schipplock (76' Drawz)
Goals: 1-0 Waldschmidt (3'), 2-0 Ito (8'), 3-0 Waldschmidt (38'), 4-0 Schipplock (56'), 5-0 Schipplock (68'), 6-0 Drawz (81')