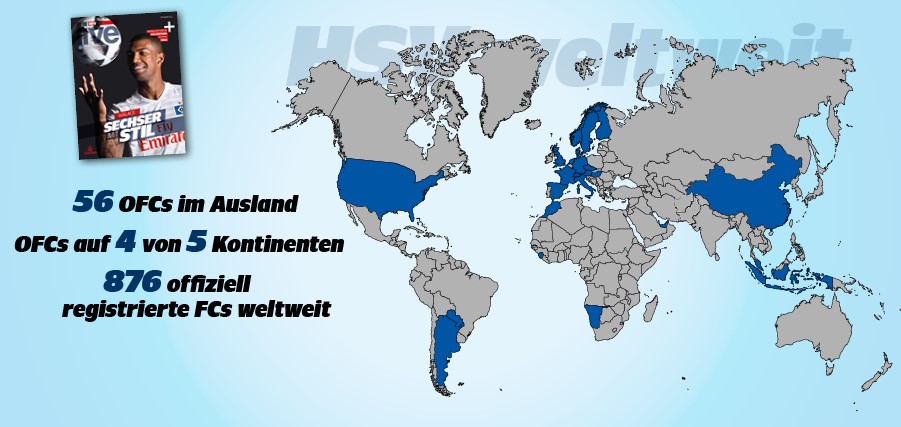 HSV fans worldwide!
There are 876 registered HSV fan clubs in all. Several are in and around Hamburg, several others are dotted all over Germany. There are however several of them all over the globe. HSV fans are everywhere!
On Saturday (25.02.17, 3.30PM) as the game kicks off at the sold out Allianz Arena in Munich for the 104th classic north versus south classic duel between odds on Bundesliga title favourites Bayern Munich and the Rothosen on matchday 22, HSV fans from everywhere will follow the game. Not only the huge contingent of travelling faithful lucky enough to get a ticket for the clash or those following the game in sports bars and pubs in and around Hamburg and Germany as a whole, but fans all over the world will be cheering the lads on. There are 56 registered fan clubs outside of Germany in far flung places around the globe. We thought you may be interested to know more so here goes!
Official fan clubs on four of the world's five continents
The Volksparkstadion – home of HSV and a second home to many of their faithful fans. The fans from the famous north stand in particular make the pilgrimage to the stadium every other week to get right behind the lads. Many of them are members of official fan clubs (OFC). In 2011 the club began to honour those clubs by painting their names on the famous staircase leading up to the north stand. Fan representatives of the club are offering newly-founded fan clubs the chance to have their names put on the wall at the cost of only the paint and sprayers doing the work. All those names are really a sight to behold.
At present there are 876 officially registered HSV fan clubs, including 56 outside of the country, with 24,300 fans officially members of them. HSV's appeal is a world wide thing. They have clubs on four of the world's five continents and the interest is growing in places like Sierra Leone, the USA, Indonesia and China – not exactly places one would think of first when considering the location of Rothosen fan clubs. Some clubs have been formed by ex-pats, others by former players. Every club has its own individual story and history. Reason enough we think to presentthree good examples to you.
HSV in Namibia
Harm Woortmann is the fifth generation of his family to live in Namibia Africa. He has been a huge HSV fan since childhood thanks to his grandfather. Woortmann studied in Munich and of course took every opportunity to watch his team while there: "I watched every game I could live in Munich and a few at the old Volkspark." Now back in Nabia he still misses his team, which is why together with his uncle and a few other HSV supporters he founded a Rothosen fan club in Namibia: "It was an idea we had been chewing over for some time", he revealed. He explained: "After the nail-biting relegation play off games against KSC I knew the time had come. HSV simply cannot be relegated." They placed an advert in the local newspaper and "the response was astonishing. We now have 58 members which makes us one of the biggest fan clubs in Africa. We are currently trying to get former HSV crowd favourite and Namibian legend Collin Benjamin to join our club", added Harm.
Namibia is more than twice the size of Germany and the fan club members are spread around the country, which makes the usual fan club evenings impossible: "We don't have a proper headquarters but most things take place in the capital city Windhoek. We try to get together with a few people every one or two months to watch HSV matches. We mainly go to a pub but also watch them at someone's home", explained Harm. It has not been possible to arrange an official OFC trip to one of HSV's games over the past two years but is certainly at "the planning stage." He is slightly worried about his club's current position in the Bundesliga table but says: "I think Markus Gisdol has managed to bring calm to the team and our squad is not too bad." His greatest wish: "As we founded our fan club I thought that HSV simply could not be relegated and I sincerely hope that it remains that way this season." Fingers in Namibia are being tightly crossed in the hope that the Rothosen can retain top flight status.