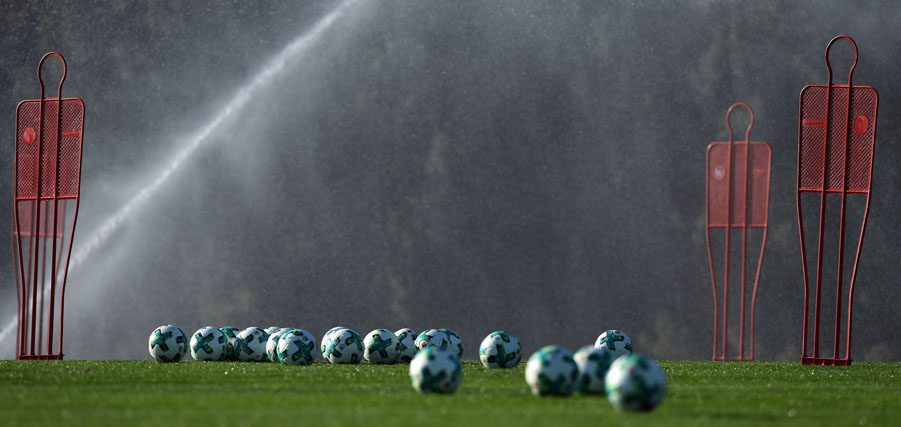 HSV's summer schedule
The Rothosen will start their preparation for the new season on Thursday, 21st June. The first public training session will take place on the following Saturday at the Volksparkstadion.
With the World Cup ongoing in Russia, the Rothosen are ready to prepare themselves for the new season. On 21st June, Christian Titz's team are due in for their mandatory lactate and performance tests. The first public training session will then take place on 23rd June (11:00 CEST) at the Volksparkstadion, before the squad will complete the first of two training camps at the Strandhotel, Glücksburg from 24th to 29th June. "We will start with a football-specific training camp, which will also contain some team-building exercises," said Titz. "At the beginning of pre-season it is vital to push the players to their limits and for the team to get a feel for one another." At the end of the training camp, HSV will play a friendly in the Eiderstadion Büdelsdorf (June 29th at 18:30 CEST).
After a training week at the Volksparkstadion, including a game against TuS Dassendorf (July 4th at 18:30 CEST), the squad will travel to Bad Erlach for their second training camp between 8th and 14th July. In the small Austrian district, HSV will be looking to apply the final touches before they begin the new campaign. As part of the second training camp, Titz's men will face Rapid Vienna on 14th July at 19:00 CEST. Once they return from Austria, the squad will take part in a pre-season tournament in Meppen against the recently relegated Premier League side Stoke City and SV Meppen. The season will then be officially opened with the fourth Volksparkfest, with the French runners-up AS Monaco the opponents at 16:00 CEST. The season opener in the 2. Bundesliga, with the opponent currently unknown, is to be scheduled for the first weekend in August. The first round of the DFB-Pokal, where HSV will be the visitors at fifth-division side TuS Erndtebrück, will take place between 17th and 20th August.
| [Translate to English:] Termin | Uhrzeit | Veranstaltung | Ort |
| --- | --- | --- | --- |
| 21.06.18 | - | Lactate and performance tests | |
| 22.06.18 | - | Lactate and performance tests | |
| 23.06.18 | 11:00 Uhr | Public training | Volksparkstadion |
| 24.06.-29.06.18 | - | First training camp | Glücksburg |
| 29.06.18 | 18:30 Uhr | Friendly | Eiderstadion Büdelsdorf |
| 04.07.18 | 18:30 Uhr | Friendly vs. TuS Dassendorf | Hamburg-Bergedorf |
| 08.07.-14.07.18 | - | Second training camp | Bad Erlach |
| 14.07.18 | 19:00 Uhr | Friendly vs. Rapid Vienna | Wien |
| 21.07.18 | ab 14:00 Uhr | Pre-season tournament vs. SV Meppen & Stoke City | Meppen |
| 28.07.18 | ab 10:00 Uhr | Fourth HSV Volksparkfest | Volksparkstadion |
| 28.07.18 | 16:00 Uhr | Friendly vs. AS Monaco | Volksparkstadion |
| 03.-06.08.18 | tbd | 2. Bundesliga begins | |
| 17.-20.08.18 | tbd | DFB-Pokal first round vs. TuS Erndtebrück | Siegen |