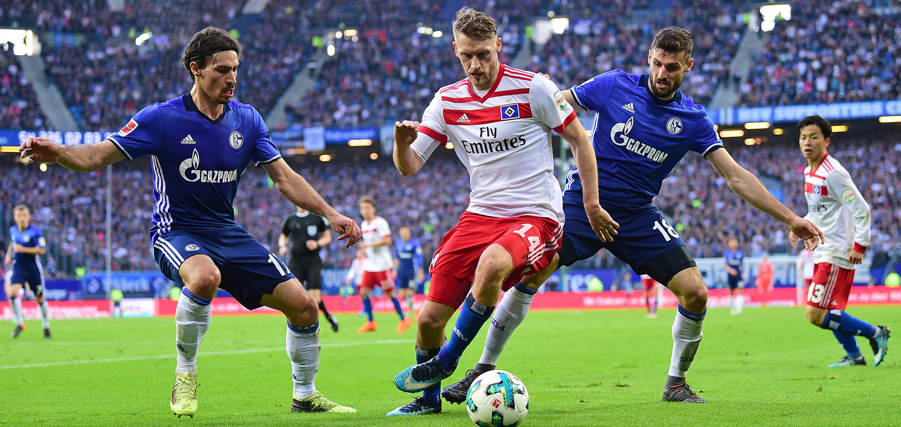 Hunt ahead of his 300th Bundesliga game: "All I've ever wanted to do was play!"
HSV.DE sat down with Aaron Hunt to speak about his wonder-goal against Schalke, the development of the team on the pitch and his upcoming 300th Bundesliga game in Hoffenheim.
With his show-stopping goal against Schalke on Saturday evening, Aaron Hunt brought the house down at the Volksparkstadion. The thunderous strike from 25 metres out not only propelled HSV to their first win in 16 games, but also renewed hope in the push for Bundesliga survival. It was equally as beautiful as it was important for the 31-year-old midfielder. With all his experience, however, the "hunter" knows very well that this win is only the first step on a long and difficult path. The next one comes against Hoffenheim on Saturday afternoon. Hunt spoke with HSV.DE about this most recent win and the difficult challenge his team face in Hoffenheim - which will be his 300th Bundesliga appearance.
HSV.de: Aaron, after a 15 game stretch without a win, you managed to secure a 3-2 victory with an absolute thunderbolt. How many times have you watched it back?

Aaron Hunt: I must admit I've seen it a lot of times. People have shown it to me repeatedly. Lots of my friends either sent it to me or tagged me in a video on Instagram. It's definitely up there as one of my best goals and was extremely important for the team to pull things in our favour so close to the end.

Caption 1: With his amazing goal against Schalke, Hunt staked his claim for goal of the month. It's an accolade that the "hunter" has not yet received in his long career.

What was going through your head when you took the shot?
Nothing at all actually. I really didn't plan for that to happen. I got the ball and then looked up to see what other options I had. I saw that I didn't have any (laughs). Then I just put everything behind it. You obviously need a bit of luck for it to go right into the corner. But it meant that we were rewarded with a win which we should have also had against Hertha and Stuttgart in the games prior.

How do you explain the team's turnaround on the pitch over the last three games?

All credits have to go to the coach. Every coach has their own philosophy and Christian wants us to play an attractive brand of football with a lot of possession. It takes a lot to implement it so quickly, which is a huge compliment to him. You can't forget the players either though, who have tried everything to put things in place as quickly as possible. But it's only a start. We can't be satisfied, there's a lot more to do.

As a technically gifted player, you have a very important role in the coach's system. How much does this system help you to thrive?

When I have a coach that looks to play football attractively, then I'm happy. We're looking to have a lot more possession and to make sure we use it well. The idea is not only to play it around the back more, but to also have a lot more passes in the opposition's half. I played most recently as a striker, but I played out wide against Stuttgart and as an attacking midfielder against Hertha. It doesn't matter to me where I play.
Caption 2: Aaron Hunt has scored 55 goals and collected 46 assists in the 299 Bundesliga games he's played in so far in his career.

There's another tough game this weekend as HSV travel to face TSG Hoffenheim. What kind of game are you expecting?

I think it will definitely be a challenging game for us. Hoffenheim have found their form again over the last few weeks and have been very good going forward. Nevertheless, we want to dominate the proceedings and win the game. We will be looking to continue what we've been doing over the last few games.

It's a special game for you personally as it will mark your 300th Bundesliga appearance. Can you still remember the first?

Yes, of course. I got subbed on in the 80th minute or so against Hannover 96. We won the game 3-0. Stuff like that will always stick in your memory. Just like your first Bundesliga goal. Even if you have played in a lot of games, the first one is always something special for a player.

Would you ever have expected to make 300 Bundesliga appearances?

If I'm being honest, I didn't really think about that sort of thing as a young player. All I ever wanted to do was play as much as possible and ideally in the Bundesliga. It never crossed my mind that I might reach 200 or even 300 appearances. It's definitely a nice achievement and I hope that we can get a win in Hoffenheim to make sure that I'll remember the milestone fondly.