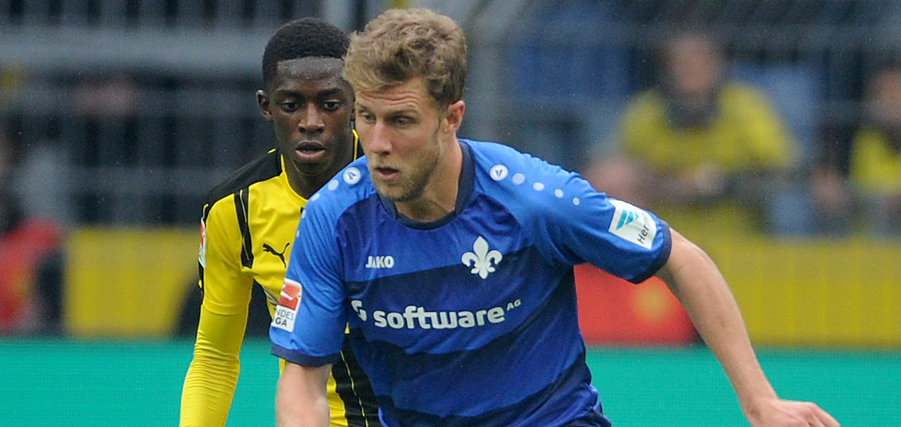 "I expect a battling duel"
SV Darmstadt 98 striker Sven Schipplock is on loan from HSV – the team he faces on Sunday in a Bundesliga matchday 13 encounter. The former Hoffenheim forward has a contract at the Volksparkstadion which expires on June 30th 2018. In a chat with HSV.de he discussed his special situation, his time with the Lilies and remaining contacts in the Rothosen camp.
HSV.de: You missed Darmstadt's 0-3 defeat at Schalke because of a cold. Will you be fit in time to face HSVS?
Sven Schipplock: Yes I am feeling fine and recovered. I am delighted to have become fit in time for this special game. Now coming training sessions will decide if and how long I play. That of course is down to the coach.
How are you doing on the whole in Darmstadt, settled in well?
Schipplock: I'm fine. I now live closer to home and use every opportunity to visit family and friends. Things are a bit different at SV Darmstadt. They have a certain flair with the stadium and fans. We are a close group and our clear goal of avoiding relegation has been there since the start of the season.
Your current club have surprisingly become competition for HSV. How closely do you follow the progress of the Rothosen?
Schipplock: I am still quite close to it still and have regular contact with the likes of Pierre, Nicolai and Michi. I was at the recent Hoffenheim game and visited the lads in the changing rooms afterwards. I am still a HSV player even if they represent direct competition for Darmstadt. If possible I would like both clubs to stay up.
The teams go head to head on Sunday. Have you ever experienced such a situation?
Schipplock: No it is new for me and really special. Both teams have their backs to the wall and I have to play against my mates. I will try to focus on my performance and not be too distracted by the special circumstances. Friendship takes a back seat on Sunday and we want to keep all three points here.
What kind of game do you expect?
Schipplock: Tough to say. HSV are recovering, finding their way back to former strengths and have more confidence right now. It will be a real old battle rather than a game of skills. The fact is that teams struggle when they play at our Böllenfalltor stadium. There is a lot at stake and we are keen to win come what may.