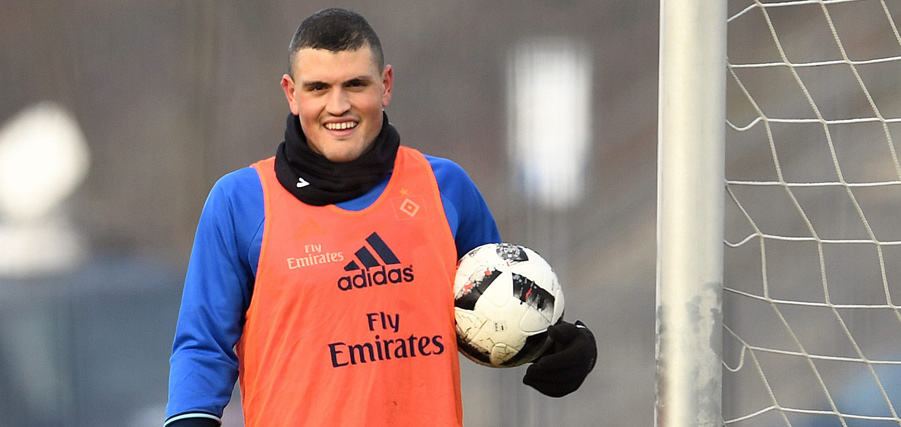 "I want to play again!"
New HSV signing Kyriakos Papadopoulos has arrived in Hamburg. The on loan central defender discussed first impressions, head coach Markus Gisdol and the current situation at HSV in an interview with HSV.de.
Kyriakos Papadopoulos was introduced as HSV's latest signing on Monday January 16. The 24 year old Greek international central defender has agreed terms on a loan deal, taking him from RB Leipzig to HSV until the end of this season. Papadopoulos is a real unit in defence and just what the Rothosen badly need right now. His grit and determination has seen him return from serious injury on more than one occasion. It is hoped that he will be able to help the team with his strong mentality and drive as they try to fight off relegation. HSV.decaught up with Kyriakos after his first training session with his new team mates. He told us of his first impressions, head coach Markus Gisdol and the current situation at HSV.
HSV.de: Kyriakos, you have just finished your first training session with your new team mates. How did it go?
Papadopoulos: Training was good. Obviously a new team is something new, but also a good thing. I am delighted to be here and can't wait to get stuck in for HSV.
What made you join HSV?
Markus Gisdol played a major role in my decision to come here. I know him well as I played at Schalke and he was Co.trainer. I also know Jens Todt, which made the decision to join HSV anything but tough. It is a good move for me.
Describe your relationship with Markus Gisdol…
Markus Gisdol is my coach and not my best friend. We enjoy mutual respect. He treid to sign me while he was at Hoffenheim, but various things didn't work out. A new chance arose and it came off this time around.
You have suffered many injuries in your career and have just returned from the latest one. How difficult is it fight your way back time and time again?
Yes, that is the way it has been I'm afraid. I had a lot of bad luck but injury is part of the game. I was in Leipzig for six months and couldn't really play, which is tough for any player. We all want to play. But when you are out injured you must have patience, work hard and always believe in yourself. I never got the chance to show what I could do in Leipzig sadly. But now I am fit and took part in all of Leipzig's winter training period. All tests from yesterday went well as did the medical. I feel good, want to finally play again and help HSV by performing well. Of course the coach decided who plays.
Does it matter that you will only be in Hamburg for six months?
No it makes no difference to me. I am solely focused on HSV right now. I will give my beat at all times for the club and the team whether at training or during games. That is what makes a professional. We will then see what happens next summer.
HSV made a poor start to the season but greatly improved towards the winter break. How do you see the current situation?
Of course you have to wait and see how things turn out. HSV were in my opinion much-improved just before the break. I hope that the team with my and the help from other new signings can continue that kind of form. The coach of course also plays a pivotal role. He has time to work with the team right now and get across his plan. WE have to work hard together. I like to get everyone into a good mood and hope to bring some of that to the team. You always have to find the right balance with such things. WE can joke around but also be deadly serious whern appropriate.