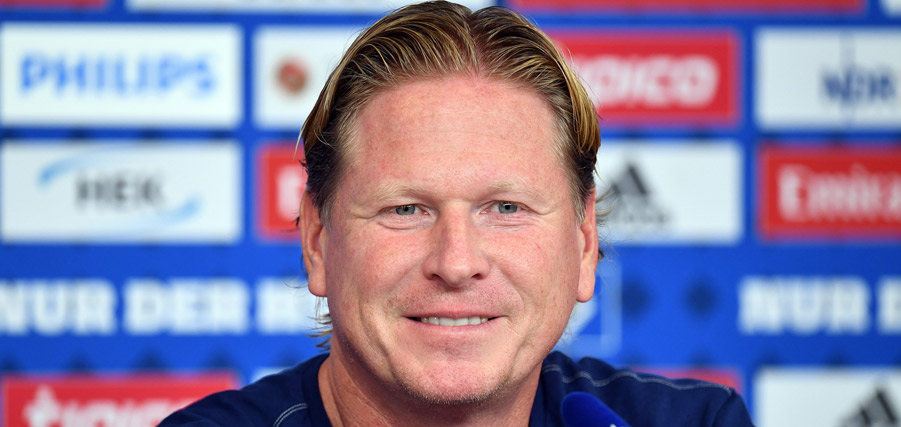 Press Conference
12.10.17
"We just have to work that bit harder"
In the 1. FSV Mainz vs. Hamburger SV pre-match press conference, manager Markus Gisdol talked about the situation regarding the squad, his expectations for the game, ending the goal drought and more.
Manager Markus Gisdol is still facing a personnel puzzle ahead of Sunday afternoon's clash with 1. FSV Mainz 05. Ten Rothosen have been on international duty, others are out with injury and illness, and some have only just come back from long injury spells. "We want to field our strongest team, without risking anything with the players we're remaining cautious over," explained Gisdol in Thursday's press conference. Come Sunday, the coach will most likely have to make do with the players who are fully fit, because, as he knows all-too well, a trip to Mainz traditionally poses a tough challenge for HSV: "We will be facing an opposition who are very aggressive at home and press hard. We should be warned about that," said the boss.
Mark Gisdol on...
... personnel: Lots of players haven't been available in the last few days due to the international break. Sejad Salihovic was the first to return, albeit with quite a deep wound which needed stitches. So I'm sceptical as to whether he'll play this weekend. Rick van Drongelen on the other hand has trained well since returning from a four-week injury and is an option for the squad. As is Albin Ekdal, whose team reached the play-offs – he wasn't called upon in the second game. This has allowed him to rest his back, and I'm confident he'll be fit to play. Tatsuya Ito and Andre Hahn have been missing with stomach problems. I hope to ease them back into training today. Filip Kostic has returned from injury and is definitely an option. In terms of being in the starting XI, we'll have to talk to the club doctors and decide carefully.
... Bobby Wood's availability: Everyone who's sat through that journey to or from the US knows how much it affects you. There are players who are more or less unfazed by it. I haven't spoken to Bobby yet, but I'll see how he is. Obviously we're considering options on how to replace him should he not be able to play from the start. Generally, you have to have alternatives in place for players coming from across the pond. USA's failure to qualify shouldn't play a role for him mentally anymore. He has to shrug that off – club football is separate.
... expectations of the game: All in all, Mainz are a side in direct competition with us. They are aggressive at home, they press hard with real commitment. We should be warned that they will try to put us under a lot of pressure with balls right across the goal. I remember our last game in Mainz. We were 1-0 up and had a massive chance to double our lead: we hit the underside of the bar and the ball bounced back out. In the end Mainz won thanks to a long-range goal from Danny Latza, who had never scored a Bundesliga goal before. It was an unusual game, making this weekend's clash a big one.
… the goal drought: We need to keep working hard. We've had some great chances to score and we have to believe that the situation will change for us. Football can throw up some surprises, so maybe our drought will end this weekend against our former keeper. I'm actually not a fan of making such a big deal of this issue, because I think that can hinder the team. I'm concentrating on creating chances, the ball will find its way over the line eventually. We just have to work that bit harder at that last bit, the bit that's missing.
... the development of the younger players: A really important part of every trainer's job description is to give the young guys a chance and to trust them enough to be able to put them into game situations. At the same time, however, you can't give them too much responsibility and put too much on their plate. You have to deal with every situation in the right way. Let's use Ito as an example: He's played for 50 minutes in the Bundesliga, but it already feels like he's a seasoned veteran and knows what he's doing - a sensational talent. He's got a bright future ahead of him so we need to make sure to bring him along step by step, responsibly.