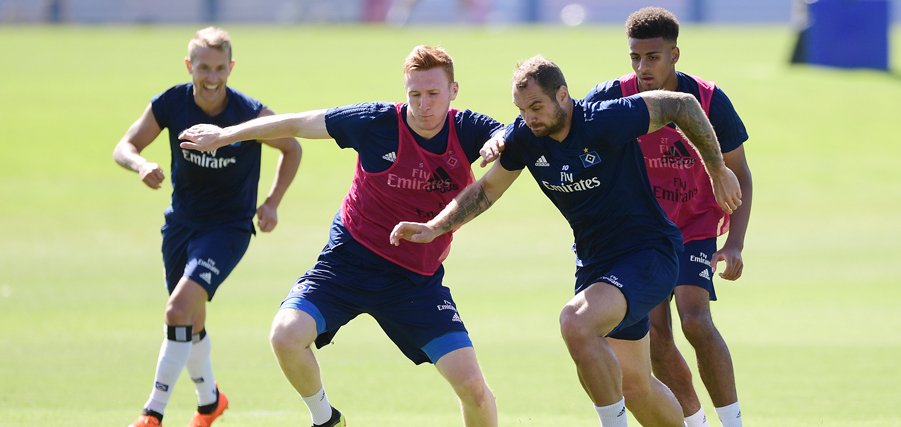 Post Match Report
03.09.18
Intensive training match to replace our league game as the team raises money for the fans
On Saturday, the HSV squad participated in a training match against one another. The club wants to raise money to refund the fans that had tickets for our postponed match in Dynamo Dresden.
The match, which was planned to take place today, was postponed last night by Saxony's state secretary after a meeting with the DFL. The HSV squad travelled back to Hamburg overnight on the team bus, arriving back at the Volksparkstadion shortly before 02:00 CEST this morning. At 12:30 today, Aaron Hunt and Co. returned to training instead of running out at the DDV-Stadion to face Dresden. "From a sporting point of you, I do not want to overly assess today's cancellation. It is, however, clear that want to rearrange the match as fast as possible so that we don't fall behind other teams with matches we are unable to play," said Christian Titz. It is not yet certain when the rearranged match will take place. The date should be decided as soon as possible, hopefully the beginning of the week.
The team raises money for the fans
The head coach now wants to make the most of the situation. He allowed his team to play in a friendly match (2x30 minute halves) with a referee with the presumed starting XI for the Dresden match winning 2-1, thanks to a Hunt penalty and a strike from Khalid Narey, against a reserves team that included Pierre-Michel Lasogga. While the coaching team attempts to return to 'normal' training mode as quickly as possible, many supporters with tickets for the Dresden game wonder what will happen to their purchased tickets and whether there is a chance that other costs for travel and accommodation will be refunded.
In the coming weeks, as soon as the date for the rearranged match is decided, the two clubs will discuss how best to allocate away tickets for the match. There was good news on Saturday for all of the HSV fans who have lost money from today's cancellation. "The entire team has decided to raise money which will be given to the fans. They can then decide how to best use the money for the benefit of all of the fans affected," Titz announced. Discussions will take place in the coming days how the fundraising activities will be co-ordinated and carried out.