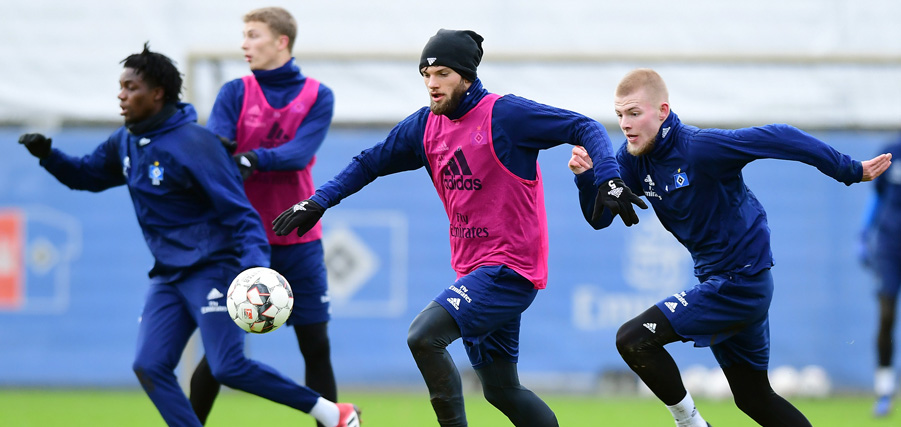 Internal training match ends in a 1-1 draw
Hannes Wolf organised an 11-a-side training match during the session today. Manuel Wintzheimer and striker Pierre-Michel Lasogga scored the goals.
HSV head coach Hannes Wolf called the players in for a final training before the squad will fly to La Manga, Spain for a week-long training camp on Saturday evening. It was an intensive and action-filled two-hour session, especially as the players have tomorrow free. After warming up together with fitness coach Daniel Müssig, the side then played a training match. The game consisted of two 30 minute halves, whereby all the players got a chance to play.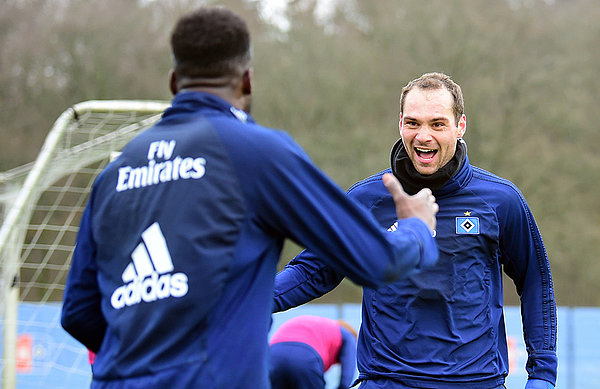 Wolf: "A good final training session this week"
After a goalless first half, striker Manuel Wintzheimer, who was celebrating his 20th birthday, put his team 1-0 ahead. Full-back Josha Vagnoman had a good chance to make it 2-0 moments after, but was only able to hit the crossbar. Pierre-Michel Lasogga got a deserved equaliser just before the end after some good work on the wing by Khaled Narey. After the match finished, a large part of the training group completed some individual exercises. "It was a good final training session this week before we have our training camp. It was important that all of our players got a fair chance to prove themselves, which is why the teams were mixed," said Wolf after the internal training game. The 37-year-old also added: "The lads were lacking a bit of freshness, especially in front of goal, but I don't want to criticise them. They have worked hard so far and we will carry on that good work in La Manga."
Wolf currently has 22 outfield players, as well as up to four goalkeepers available to him. The only missing players are long-term injuries Kyriakos Papadopoulos (rehabilitation after cartilage damage) and Jairo Samperio (rehabilitation after ligament rupture), as well as Hee-chan Hwang who is away on international duty with South Korea. As a result, there is real competition for places right now: "It's good that my team selections are difficult to make. We will make our choices for the first league game and we cannot say who what they will be yet." It will be clearer who will be in line to play against SV Sandhausen in the first league game of the year (30/01, 20:30 CET) after the final training week during the winter break. All of the players will have until then to prove themselves. Their next chance will come in the training camp in La Manga, where HSV will be from 12th till 19th January, playing friendlies against FC St. Gallen and FC Lugano.