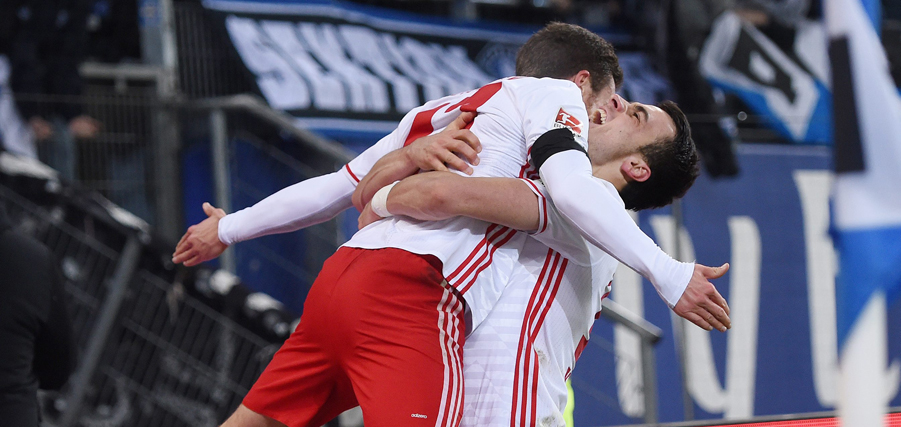 Voices for the Match
20.12.16
"It was a perfect day"
HSV recorded their second league win of the season on Saturday afternoon, beating Schalke 2-1 at the Volksparkstadion in Hamburg on Tuesday night. It was the perfect result to end the year, and that was reflected in the post-match reaction we collected after full time.
The players were sent off into the winter break by way of a sea of light, created by the mobile phones of the fans, after the 2-1 home win over Schalke in the final game of 2016. The victory was hard fought and deserved, so it was no surprise that the protagonists we met afterwards in the mixed zone inside the Volksparkstadion were upbeat. The gritty performance from start to finish sent the fans home happy – not something that has often happened this season so all the more sweeter. Read here what was said after the matchday 16 clash was over.
Nicolai Müller: We performed well from the opening minute. It was fun today and everyone saw that we were very determined to win the game. Such games of course do you good. It was a perfect day and a win today to round off the year was crucial. We only lost one of our last six matches. The team performance today felt good. It was a great team effort.
Bobby Wood: We are happy to end the year on a positive note. It's a real good feeling. It was also amazing to get the send off our fans gave us. It had a Christmas feeling. I always love scoring and that was a really good shot.
Albin Ekdal: We dominated the game from start to finish. We played well and even missed a penalty. Personally it was a great game for me. It was great to be back in first team action after all the injuries I have had. I am not yet 100%, so that is my 2017 goal. We go into the winter break with a positive feeling, and personally, I need the break to retain full fitness.
Gotoku Sakai: It was a really nice win. We produced a good team performance during which everyone gave their all, which was the foundation for the victory. This home win is great and of course does us all good after previous disappointments during the first half of the season. We have to now stick together as a club. I am happy to go into the winter break with this good feeling.
Markus Gisdol: The team performed well today. I think we were well worth our win and in reality should have won by a greater margin. The team reacted well after we missed the penalty. We remained calm and continued to get forward searching for a second goal. We worked hard and forced the second goal. I want to really praise the team: Things at the club have been tough recently, but they carried on working hard and doing their job. They have moved closer together as a team and developed as individual players. I would like to thank our fans, who not only against Augsburg but were right behind us all the way. It is great to be going down the same path. We must of course not lose sight of the fact of where we are.
Markus Weinzierl (Schalke coach): HSV deserved to win because we performed poorly. We couldn't make use of balls played to the front line and rarely managed to loosen their grip. We didn't do enough up top. We were hit on the break twice, during which we made small mistakes. As they scored the first goal we just let Nicolai Müller do what he wanted. We were trying too hard as they scored again. Despite pulling a goal back through Avdijaj, we couldn't equalise. We only have ourselves to blame for this defeat. We were poor.