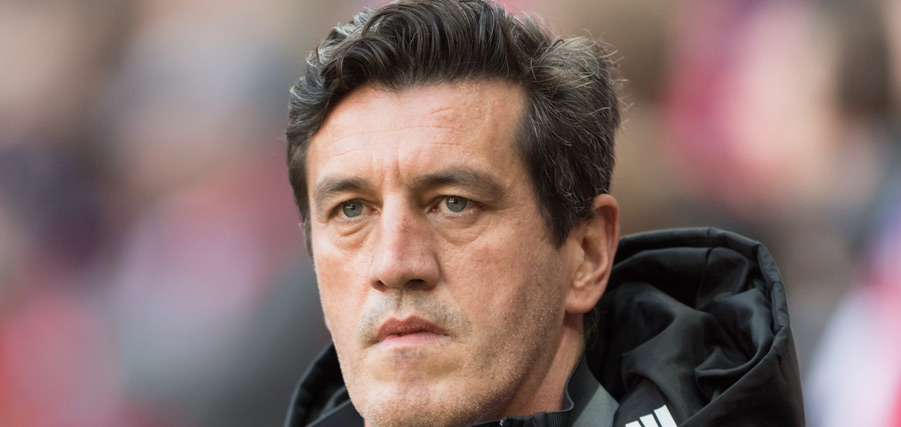 Voices for the Match
25.02.17
"It was a very black day"
HSV took an 8-0 hammering at the hands of Bundesliga title favourites Bayern Munich on matchday 22. HSV.de spoke to the disappointed protagonists at the mixed zone at the Allianz Arena.
The Rothosen suffered an 8-0 crushing defeat away to Bayern Munich on Saturday afternoon (25.02). After the game had ended HSV.de headed or the mixed zone at the Allianz Arena where we gathered the following reaction.
Rene Adler: We failed to get into the game from the opening minute. It felt like we didn't win a single tackle and Bayern took advantage. The way we lost is not just disappointing but very poor. We cannot play like that. I is tough finding the right words so soon after the game. Today showed that we can only succeed through passion and fight. It was a daw where everything went right for Bayern and we were awful. But that of course is not an excuse. The cup is a different competition and it is good to get a chance to make good so soon after such a defeat.
Jens Todt: When you lose a game at this level8-0 you have been taught a lesson. We failed to show in any way how we have recently collected our points through grit and determination. The truth is that we had no chance today. Certain goals conceded through individual or team mistakes must not happen even if you are having a bad day. The team are well aware how important goal differences are at the end of the season. Today we played like we were collectively lame. It was a very black day and we are glad that we have the chance to bounce back with the cup game next week.
Gotoku Sakai: We had made plans for this game and we are of course gutted but we have to quickly put it behind us. We know what we did badly. We now face further important games. We have toput this experience behind us andprepare for our next game. We learned a lot today and are aware that we can only climb the table through a collective effort.
Markus Gisdol: A painful day and we deserve that pain. We have to digest a very clear result against us. We never looked likely to match Bayern. We showed them far too much respect and Bayern took advantage of that fact. We must now keep our heads up and quickly analyse what went wrong. We have our next game on Wednesday. We will discuss what happened here on Monday and Tuesday and draw a line under it all. In the past one of our strengths has been to bounce back after setbacks and get back on track.