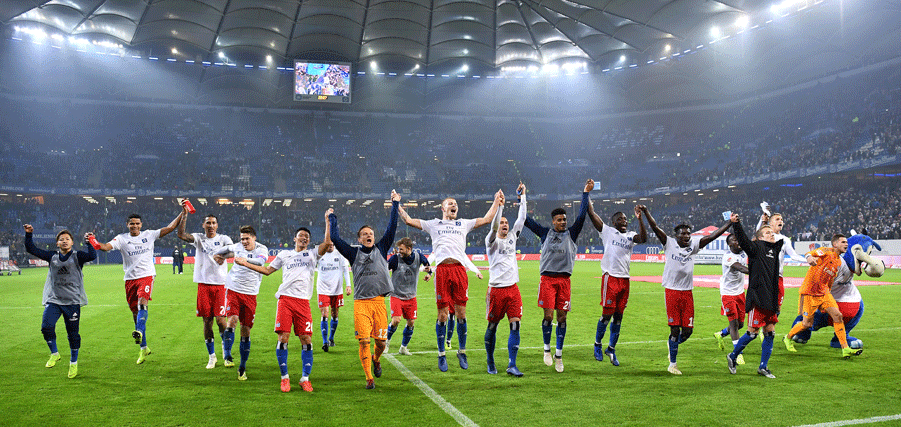 Post match reaction
05.11.18
"It was a very good performance"
Hannes Wolf and his players were delighted after a deserved home win against 1. FC Köln and are already focussing on the next game.
Pierre-Michel Lasogga decided the top of the table clash in the 86th minute which sparked off wild celebrations. There were great scenes as the players celebrated with the 50,000 HSV fans after the game. With the three points, HSV move up to first in the table but the coach and players are already focussing on the next match. "It will not be much easier in Aue on Saturday than today in Köln," explained HSV coach Hannes Wolf. HSV.de has all the opinions on the game.
Pierre-Michel Lasogga: It was a deserved and much-needed win at home. It was a tough game for a forward but as a striker you need to always be alert and I took my chance when it fell to me. I am really pleased to have scored. Dougi is a great player and he is effective in situations like that. We played well in the second half and defended the lead well. It was an overall great team performance. It is even better to celebrate with the fans when you know you are top of the league. I really hope we can cement our position now.
Julian Pollersbeck: It was a perfect evening. We did everything to win the game and it feels great to have achieved our goal. We defended really well and Douglas was brilliant. He is the kind of player that can make a difference and we have lots of them in our team. He defended brilliantly and was a threat going forward. It was an intense game and I got a bit emotional sprinting the whole pitch when we celebrated. We are only top at the moment and we need to stay there.
Aaron Hunt: The first half was quite close but we were the only team that tried to win the in the second half and deserved the win. We put pressure on Köln and stopped them from attacking. Douglas was great going forward and made it hard for the opponents to push out. It is great to be top of the league bit it is deserved. There is a long way to go this season, yet.
Ralf Becker: It was a good game and we deserved to win. We were solid at the back and also had good chances to score in the first half. We could have had a penalty for handball but the referee said he could not see clearly to make a decision. I am nonetheless delighted that we got the win. It was a passionate performance and we played well. It is only one game, however, and we need to move onto the next.
Hannes Wolf: There were difficult moments in the game but we defended really well. There were also opportunities up front but we missed the final ball. We played really well in the second half. I have taken over a really fit and athletic team and you could see that today. It was a great performance and we are delighted with the win. This league is difficult and it does not get any easier against Aue on Saturday.
Markus Anfang: We played well in the first 15 minutes and lost the ball too many times. We tried to play more in the second half but we did not manage it today. We tried to play with two strikers and counter attack. We did not play well and I am not happy with our performance. We need to speak with the players about their performances.