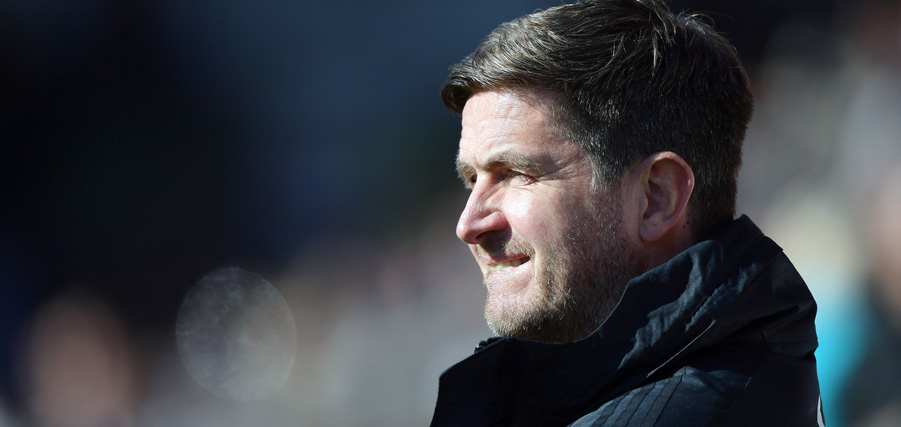 Post match reaction
30.03.19
"It was hard work"
HSV battled to a goalless draw against VfL Bochum; a result which could be seen as either two points dropped or one point earned. Here is the post match reaction.
As the players made their way over to thank the travelling fans at full time, there were mixed emotions on show. On one hand it may feel like the chance of a victory wasted due to the early opportunities to take the lead, on the other hand a lucky draw thanks to a controversial penalty shout. One thing was for sure: today's game won't be remembered as one of the greatest games in history, as the focus was on defensive security in front of a sell-out crowd, meaning little room for creativity at either end. After 90 well fought minutes, the game ended in a scoreless draw for the second time between the two sides this season. HSV.de has the reaction to the game.
Ralf Becker: It was hard work today. In the first half they were often one step ahead of us in the one-on-one battles. Overall we were never firing on all cylinders. I would probably say that the result was a fair one. There's not long left to go now, so we need the mental strength. We have to pick ourselves up.
Pierre-Michel Lasogga: There is rarely a scoreless draw that is enjoyable to watch. However I know that we had our chances to score. At the end of the day a draw is probably a fair result, but with a bit more quality in front of goal we would have been able to win today. We wanted to get the three points but we have to move forward now and learn from our mistakes.
Rick van Drongelen: Of course we wanted to win the game but Bochum also had some good chances of their own. In the first half we never got going properly but we were the better team in the second half. We had good chances to score but didn't make the most of them. It is a shame but we will take the point and move on. Bochum is a difficult place to play. We didn't put everything at risk today which was probably a smart move. We want to get as many points as we can, in order to be where we are now at the end of the season.
Mats Köhlert: I am very pleased to have made my debut. As a youth player, you always have to be ready to come into the first team. I have always worked really hard in order to make to step up into the team and now I want to carry on doing so and hopefully the other appearances will come. However I would have been even happier if we had won the game.
Hannes Wolf: We knew that it would be difficult game. Bochum have many experienced players. In the game we made too many errors when going forward and gave away possession too easily. Both sides had chances to score. Of course we would have liked to get the win but we will take the point. Now the focus is on our next task.
Robin Dutt: My team had to deal with a lot of missing players and did very well. We had a lot of possession and pressed well. HSV had the best chance of the game, but Manuel Riemann denied them superbly. Overall it was a good sign that the team worked well together – the boys did well.