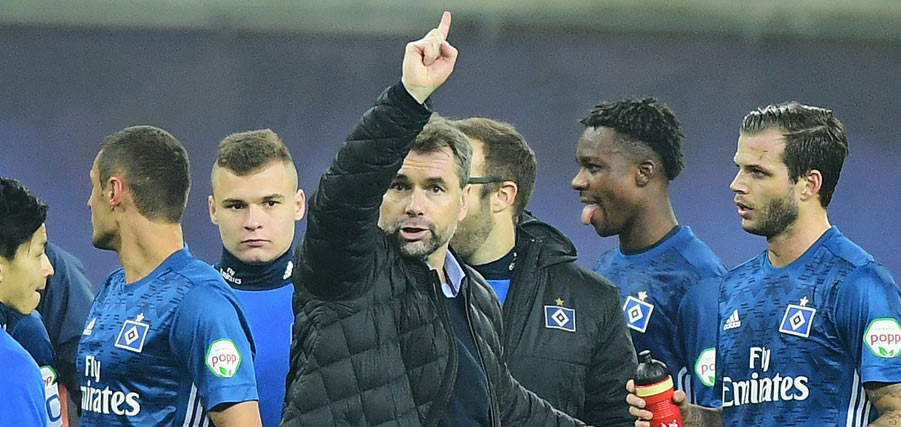 Post match reaction
28.01.18
"IT'S A VITAL POINT"
WITH PASSION AND SPIRIT, HSV GRINDED OUT A HARD-FOUGHT 1-1 DRAW IN LEIPZIG. A POSITIVE RESULT IN THE BATTLE FOR SURVIVAL, ACCORDING TO THE PLAYERS AND STAFF.
Hamburger SV take a valuable point back to Hamburg thanks to a committed team performance away at last season's runners up RB Leipzig. Bernd Hollerbach, who celebrated his debut as HSV head coach, saw the team rescue a point from a losing position for the first time this season. Filip Kostic equalised in the 29th minute after Bruma had given the hosts an early lead. With an important point in the bag, the players and coaches shared their positive thoughts in the mixed zone at full time:
Filip Kostic: "That was an important point. We stood together throughout, that was good. We put on a strong fight. I'm happy that I could help the team with my goal. I wanted to shoot straight away, and then I saw that the goalkeeper had gone down on his knee, so I decided to take it past him. Fortunately it came off. Now we have an important home match ahead of us and we need to build on today's performance."
Gotoku Sakai: "The head coach injected some confidence into us during the week and helped us clear our heads. We attacked boldly and got the equaliser. Of course we need to work on improving in many areas. Playing in central defence was new for me. But, in theory, it's very similar to playing as a full back, so I was quickly able to adapt.
Rick van Drongelen: "It's a good feeling to get such an important point. It was important that we could win our one-to-one duels today. We had a clear game plan. We wanted to stay compact and organised, which we managed for most of the game. We always had two or three players, all over the pitch – everyone helped each other. The new coach placed a huge focus on discipline and unity. Particularly in this difficult phase, the team spirit gives us a good feeling."
Aaron Hunt: "The points is incredibly important for us – especially after going behind early on. I take responsibility for the first goal, my first touch was bad before losing the ball. But it's important that we then found ourselves in the game. You always have two options: either you bury your head in the sand, or you stand and fight. We fought and in the end won a deserved point."
Dennis Diekmeier: We have often folded after going 1-0 down this season. But that didn't happen today. We continued to keep our heads up and played positively and we developed into the game well. It is great that we fought back. Everyone fought for each other, whether they started or if they came off the bench. We need to continue to do that, take this forward and be really engaged in training in the coming week.
Jens Todt: It was a great team performance and a vital point. It took us a while to get into the game but we improved a lot after they took the lead. We tried to be compact in defence and be courageous in attack. We did that well and had a few goalscoring chances in the second half. You do need a bit of luck sometimes against such a strong team and we got that today.
"WE PLAYED WITH A LOT OF HEART AND PASSION AND SO IT IS DEFINITELY A DESERVED POINT." BERND HOLLERBACH
Bernd Hollerbach: It is great to be able to get a point at the second-best home team in the league. It doesn't mean we can now shout 'hurray' though. We played with a lot of heart and passion and so it is definitely a deserved point. But we still have a lot of hard work ahead. We have a hard home game against Hannover and we need to prepare for that. I decided on the goalkeeping situation yesterday after discussions with the goalkeeping coach. Christian made a good impression during the week and he has experience of this situation from last season. He held his own in a tough position last year. It was a tough decision because "Polle" also trained really well.
Ralph Hasenhüttl: We're disappointed that we didn't get the win. We forced the opponent into mistakes but we couldn't double our lead which would've broken the moral of HSV perhaps. Instead it went the other way and Hamburg came back with the equaliser. It is particularly frustration because the goal was offside. We lost our momentum when we conceded that. We wanted to increase the pressure in the second half but we didn't manage that. At the end of the day, a point isn't great for us.