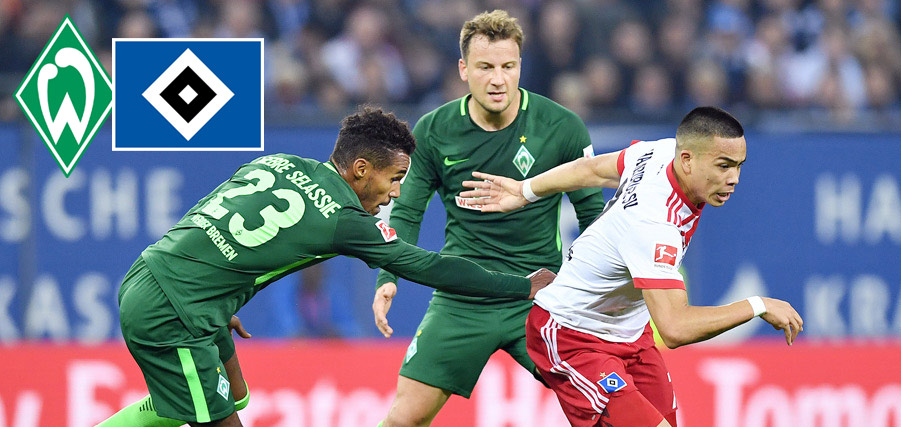 Pre Match Report
23.02.18
It's Derbytime
On Saturday evening, the 108th iteration of the Nordderby will commence. It's a chance for the Rothosen to gain important ground on one of their bitter rivals and direct competitors in this year's relegation battle. And both HSV coaches want to make good use of their derby experience to give their team the best chance to do just that.
When Felix Zwayer blows his whistle to mark the beginning of the 108th Nordderby between Hamburger SV and Werder Bremen at 18:30 CET on Saturday evening, the whole of German football will be watching this clash of two storied rivals. No other game has happened more times in Bundesliga history and hardly any other game gets fans of both sides going as much as this one. But there's one thing that makes this particular Nordderby special: it's a match in which the 17th placed side in the Bundesliga face the 16th. Both teams find themselves in the midst of a relegation battle, with HSV struggling a bit more than their rivals from the Weser. "We know that the game this weekend will be an extremely important one," emphasised assistant coach Rodolfo Cardoso, who knows what he's talking about. He has represented both teams in his playing career - six times for HSV, twice for Werder Bremen. He scored for both teams and he was on the winning side for both as well. In 1997, shortly after he made the switch from Werder to HSV, he scored a goal to help the Rothosen along to a 3-2 victory. "You never forget a game like that," he said looking back.
Cool head with fiery spirit
Nowadays, the Argentinean stands next to head coach Bernd Hollerbach on the sidelines and not on the pitch. But both former HSV first-team players want to pass on their experience they have built up from their Nordderby appearances. "We're in a situation where we desperately need to get three points," said Cardoso. The want to win after ten games without doing so is high, but then so is the pressure. With only 17 points to their name, HSV currently occupy one of the two automatic relegation places, with safety six points away - not an easy situation for both the club and the fans. "The most important thing is that the players stay focused going into games like these," explained Cardoso. "That's obviously not easy when you find yourself in a situation like this, but it's different for a derby. It's one of the most important games we'll have this year. It's all or nothing," said the 49-year-old. Bernd Hollerbach is of the same opinion: "Anything can happen in a derby. There's a lot of emotion in the game. We need to have cool heads with a fiery spirit!"
"You have to live with it as a player"
The powers that be from both sides are trying to make sure that the game's fiery passion stays on the pitch, although the Rothosen are obviously expecting the atmosphere to be electric on Saturday evening. "It's a part of every derby," Cardoso emphasised. "Every player has to use it as motivation. If the boys do that, it can tip the scales in our favour. It's the derby - there will always be rivalry. It's a part of the game and you have to live with it as a player."
Werder coach Florian Kohfeldt is also expecting an emotional game on Saturday night. The six point advantage that his team currently possesses is no such thing, according to him. "It's a derby first and foremost, but the standings make this one that bit more crucial," he said. "Both teams will push themselves to their physical limits." The Green-Whites will be at full strength going into the game, as Zlatko Junuzovic will return to the squad after missing their game against Freiburg last week. Philipp Bargfrede and Aron Johannsson will also be available for selection as well. Fin Bartels is still recovering from the serious injury he sustained to his Achilles, however.
Off to Bremen with 19 men
Hollerbach's men will be without Lewis Holtby and Albin Ekdal for the Nordderby, while there is still some doubt as to Walace's availability, so HSV have travelled with back up. The Brazilian midfielder became a father last weekend and was given some time off to visit his family in South America; he will be back in Germany in time for the game, but how ready he will be after a long flight remains to be seen.
At the end of the day, all the planning, the headlines, the pre-match talk will mean nothing. "When the referee blows that whistle, it's what happens on the pitch that counts," said Bernd Hollerbach, who faced Bremen eleven times as a player. "We can talk all we want before the game, but in the end we need to show that we're ready to play," said the boss. It's time to win the Nordderby. "There's nothing better," said Cardoso, in anticipation of the game: "We can put a lot of things right if we win, especially for the fans!"
HSV squad: Goalkeeper: Mathenia, Pollersbeck; Outfield: Ambrosius, Arp, Diekmeier, Douglas, Hahn, Hunt, Jatta, Jung, Kostic, Mavraj, Papadopoulos, Sakai, Salihovic, Vagnoman, van Drongelen, Walace, Wood
Werder Bremen could play like this: Pavlenka - Gebre Selassie, Veljkovic, Moisander, Augustinsson - Bargfrede - Delaney, M. Eggestein - Gondorf, Kainz - Kruse
Unavailable: F. Bartels (achilles tear), M. Zetterer (wrist operation), O. Käuper (ankle injury)
Referee: Felix Zwayer (Berlin)