"It's my goal to develop this swarming style of play"
New signing Daniel Heuer Fernandes has got a clear plan of what he wants to achieve this season: at HSV the 'keeper wants to take the next step and create a special atmosphere at the Volksparkstadion
Last Friday the DFL published the fixture list for the 2019/20 2. Bundesliga season, with HSV starting the new campaign at home to SV Darmstadt 98. For HSV new signing Daniel Heuer Fernandes there was a certain irony to that fixture being the first one of the neew campaign, and as soon as it was announced his smartphone didn't stop buzzing. The 26-year-old 'keeper had of course been playing for the Lilies for the past three seasons, becoming a key cog during the club's stabilisation in the second tier. "Naturally as soon as the fixtures were released I got lots of messages. I'm still in contact a fair amount with Marcel Heller, Tobias Kempe and Wilson Kamavuaka. For me it's going to be a special game, and obviously I want to leave the pitch on the winning side as well," explained Heuer Fernandes on Thursday when meeting with a few journalists.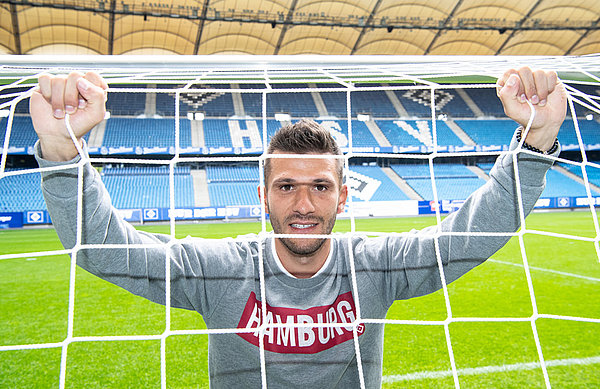 "I know what can happen in this stadium"
During his last trip to the Volksparkstadion the German-born, Portuguese-bred goalie was fighting side-by-side with Heller, Kempe and Kamavuaka, and experienced one of the most emotional of his 72 appearances for Darmstadt. After an explosive opening to the game, the Lilies found themselves 2-0 down before they even knew it, but slowly found their way back into the game, and completed a spectacular comeback with a last-minute winner, heading back to Hessen after a 3-2 win. "As a team we just wanted the referee to finish that game as quickly as possible. In those first 20 minutes we had absolutely no answer to the home side's power and strength. The way they played was completely overwhelming and we just couldn't relieve any of the pressure. Only as time wore on did we grow into the game," Heuer Fernandes said, reflecting on a game that no HSV fan will have good memories of, and thus the 'keeper is also keeping his sights firmly set on the future: "That's now in the past. But it's my aim for us to develop this all-consuming style of play as often as possible, so that the other team feel like they can't escape. Because I know exactly how that felt as an opposing player. I know what can happen in this stadium when the team is playing well." So that he is able to achieve his aim, Heuer Fernandes and the other new signings who played against HSV last season want to impart the knowledge that they gathered as an opposing player to the current squad: "it's good to know what happens in the other team's dressing room. For us it was the most important game of the season so we came into it with extra motivation. Having this experience makes it clear to me at least that in the upcoming season we have to match the energy levels of our opponents."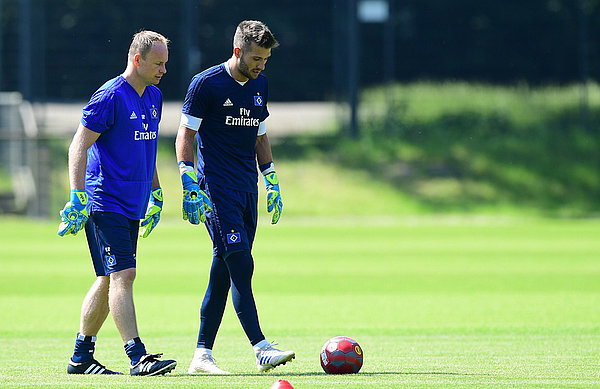 "Everyone gains from competition for positions"
Heuer Fernandes "consciously chose" to switch from an underdog to one of the favourites for the 2019/20 league title. After spells at VfL Osnabrück (2013-15), SC Paderborn (2015-16) and Darmstadt (2016-19) the Bochum-born 'keeper now wants to make the next step in the Hanseatic city. "HSV is a new challenge for me. Everything's just at a different level here, something I've particularly noticed during training. We've got lots of options in every position and training is also of very high quality. I want to play at this level", the goalkeeper explained, who also made appearances for the Portuguese U21 team in his younger days.
During goalkeeper training, which the new signing hasn't yet been able to take part in due to muscle problems, Heuer Fernandes will be competing with Julian Pollersbeck and Tom Mickel, under the direction of another new face, goalkeeping coach Kai Rabe. "From what I've experienced so far we all got on really well with one another. We communicate a lot with each other during training but also off the pitch as well. However at the same time we're not stupid; we know that we're competing with each other for a spot in the team and we all have the same ambition." The 26-year-old believes "that we can all gain from the competition for a position in the team." Last season Heuer Fernandes didn't miss a league game for Darmstadt, something he hadn't managed in his career until that point. He likes to see himself as a modern goalkeeper, who is confident on the ball and can help his team to escape the opposition's press. "When I was growing up I played quite a lot out on pitch. Maybe because of that upbringing I'm more confident as a goalkeeper when the ball is at my feet," the 26-year-old speculates. At the moment though he's working hard to make his way back into training and went on a lengthy run yesterday with the other long-term injury candidates. I'm in good spirits because I can fully take part in training during the training camp in Austria," he added confidently. After that a doubly meaningful game awaits him on the first Bundesliga matchday. His first game in the famous black, white and blue as well as a reunion with his old comrades.