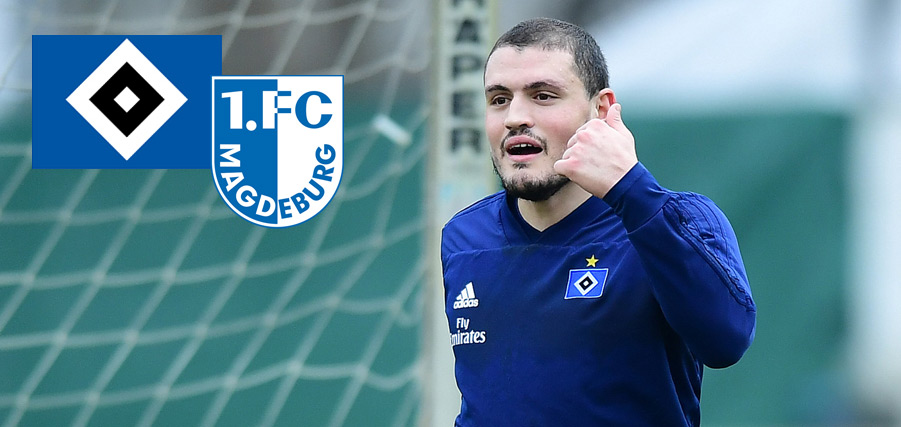 Pre match report
08.04.19
Keep up the good Monday results
HSV are currently unbeaten in the 2. Bundesliga when playing on a Monday night and want to continue their unbeaten run, this time against Magdeburg.
Monday is not traditionally the favourite day of the working week. After the weekend, begins a long week ahead, with people looking forward to the end of the week. "I don't like Mondays', a song by the Irish band Boomtown Rats and lead singer Bob Geldof is a very relatable song. However, for Hannes Wolf and his team, Monday night games in the 2. Bundesliga have been very good: five games played, five games unbeaten (four victories: 3-0 vs. Bielefeld and three 1-0s against Köln, Dresden and Fürth and one 2-2 draw with Union Berlin), taking 13 points out of a possible 15.The team will be wanting to keep their unbeaten Monday night record intact in their upcoming home game against FC Magdeburg (20:15 CEST) on matchday 28.
Wolf's 'second half of the season'
Hannes Wolf said in the press conference prior to the game that his team need to be fully focused and ready for the remaining games. "There are crucial factors, especially in the final parts of the season. We need to play well through these game and adjust the players in the team so that everyone is always fully fit. You can only beat Magdeburg if you can win the physical battle," said Wolf. Hannes Wolf made his HSV debut in front of 23,000 enthusiastic fans in the Magdeburg-Arena in the first half of the season, with his team playing extremely well despite going down to ten men after David Bates was sent off in the 53rd minute. Khaled Narey's 77th minute winner was enough to ensure that Wolf started off with a victory. In his next 16 games, the head coach has won nine games, drawn three and lost four, claiming 33 points in total. This will be Wolf's first 'second game' of the season and so his 'second half of the season' starts now against Magdeburg.
Janjicic doubt, Beck returns
Magdeburg have also appointed a new head coach since the two sides last met on November 14th, former HSV boss Michael Oenning. His side have picked up 13 points in 2019, just one point less than Hamburg. "There's a lot of new things with Magdeburg. They have new players and a new system. They defend from the front a lot and they do well to turn things around when they win possession. They almost won against Dresden and Heidenheim," said Hannes Wolf. The side also welcome back their captain Christian Beck, who has eight goals and six assists so far this season. The striker should at least be back in the squad after his facial injuries sustained in the game against Duisberg at the beginning of March.
Stabilising factor
HSV are still waiting on the return of Vasilijie Janjicic. Following a gastrointestinal infection, he was only able to take part in some parts of training up until yesterday. Whether he makes the squad will be decided shortly before the game. Apart from Janjicic, Wolf has everyone available who played in the 2-0 win against Paderborn. This includes Kyriakos Papadopoulos, who made his comeback in the game after 325 days out, playing 90 minutes. Hannes Wolf said: "We're massively pleased that he's fit again. He was a stabilising factor in Paderborn. You can build on the mentality that he sends out." With Papadopoulos back, HSV are well-prepared for the final run in in the chase for promotion.

Potential lineup: Loria, Rother, Tob. Müller, Erdmann, Perthel, Kirchhoff, Laprevotte, Preißinger, Türpitz, Beck, Bülter
Referee: Bastian Dankert (Rostock)