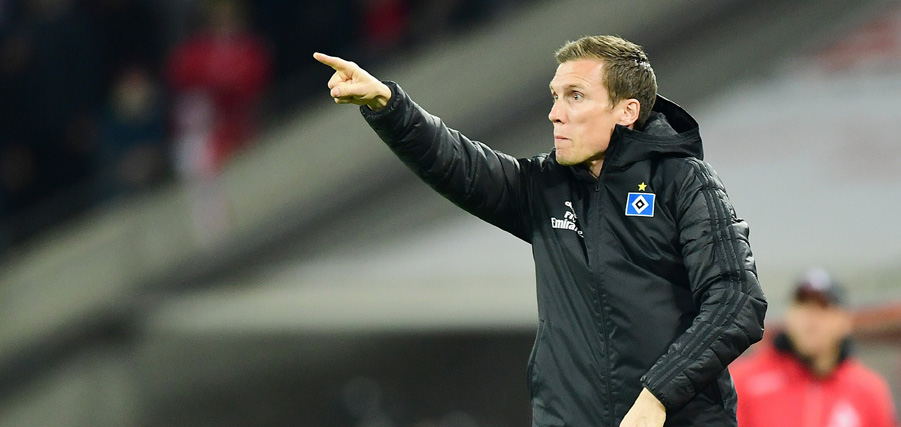 Post match report
16.04.19
Köln game is history, Aue is a fresh start
HANNES WOLF IS KEEPING THE PRESSURE ON HIS TEAM AFTER A 1-1 DRAW IN HSV'S TOP OF THE TABLE CLASH IN COLOGNE: THERE'S A WHOLE NEW GAME TO FOCUS ON IN THE FORM OF ERZGEBIRGE AUE AT HOME.
Hannes Wolf is feeling the tension. Around 16 hours after the team's top-of-the-table clash with 1. FC Köln, the head coach spoke to the press at the Volksparkstadion, focused as ever on the task at hand. On Saturday, HSV welcome relegation candidates Erzgebirge Aue to the north coast, with the visitors assuming the clear underdog role, on paper, at least. The most recent two home games both ended in last-minute defeats (3-2 against Darmstadt and 2-1 against Magdeburg) and showed just how difficult the supposed 'easier' games against teams from the bottom half of the table can be. Both defeats were preceded by good performances on the road (a 4-0 win in the derby and a 2-0 win over SC Paderborn in the cup). Neither performance could be carried into the respective following home game, so the 38-year-old head coach has demanded his team reflect on the 1-1 draw away to the table toppers with a degree of humility. In four days' time, they face a whole new team, a whole new game, which starts at 0-0; a game, which, considering the limited amount of remaining fixtures, bears huge significance. Hannes Wolf made this clear during Tuesday's press conference, where he also assessed his side's performance on Monday night and outlined the situation regarding personnel.
Hannes Wolf spoke in detail about …
… the top of the table clash in Köln: We played against top of the table and earned a very much deserved point after coming back from 1-0. It's good but it is now behind us. On Sunday, we have our next game which is against Aue. We need to put in 100% again. Every game is like a final.

… the increasing pressure: It is silly to say that we are under no pressure. There definitely is! But we can gain positive energy from it. The final phase of the season begins and we want to let the pressure drive us forward. We have to play our best football. We won't if we just use momentum.
Hannes Wolf praised the training performances of Manuel Wintzheimer (here fighting for the ball with Marco Höger) and wants to support the striker's development.

… the role of Manuel Wintzheimer: Manuel is a youth international player and has always scored goals. Recently he has been playing well with the U21s and has scored goals. He must now adapt to the new type of matches. All in all, he is a good player who is good at finishing.

… Leo Lacroix's performance: He trained well in the last week and deserved his chance to play. Even though he hasn't had much match practice, we saw that he was able to play against our upcoming opponents. At the moment you need players that can perform and he did exactly that.

… the personnel situation: It looks like Pierre-Michel Lasogga and Hee-chan Hwang will be available for the game against Aue. I need to see whether they will start or be on the bench.

… the young team: We have young players, who are already quite experienced. For example players like Rich van Drongelen, Orel Mangala or Vasilije Janjicic. Basically we just have to be ready for the games. We have to give it our all and then we have a chance.
… the upcoming home game: We have to start our preparation again. In the moments when we have been under pressure, we have played really well. Now there is real pressure. We do not have a good goal difference and we can't make any mistakes. Aue are a good team. We have to change our tactics though compared to the game in Köln in order to win. We want to be sharp and push ourselves to the limit.