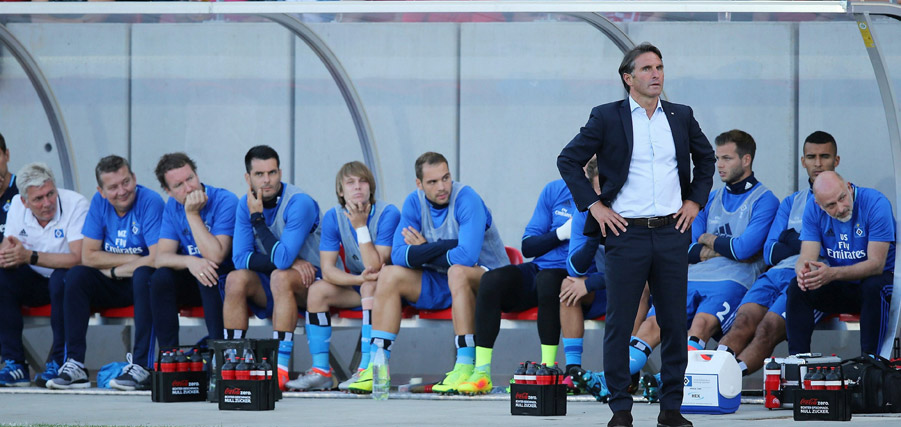 Labbadia: "We practised what we planned"
A day after the Rothosen progressed to round 2 of the DFB Cup by beating FSV Zwickau 1-0 away from home (August 22), HSV.de decided to reflect on the game and look ahead to the start of the Bundesliga season this weekend.
As expected, the deserved 1-0 DFB Cup win at Zwickau was anything but a stroll in the park. New signing Alen Halilovic, who scored seven minutes after coming on as a substitute for Nicolai Müller was the man of the hour at the sold out Zwickaustadion on Monday night: "I was pleased for Alen, it was a wonderful goal", said HSV boss Bruno Labbadia – himself a former striker. A goal which was not only classy, but also secured his team safe passage into round 2. Labbadia added: "We produced a tight team performance and deserved to progress." We thought we would reflect on the season-opening game and take a sneak peek at the opening round of the 2016/17 Bundesliga season which begins for the Rothosen this weekend with a home game against FC Ingolstadt at the Volksparkstadion on Saturday August 27. The game kicks off at 3.30 PM.
The cup clash: In Zwickau, the Rothosen produced a focused display for most of the game, creating several top drawer scoring chances. Sadly the taking of them left a lot to be desired. Labbadia again: "We played well. We were well prepared and put into action what we had planned." The coach was especially happy with the togetherness at the Zwickaustadion: "Everyone helped out at the back and we also moved well up front." The only goal of the game came by way of a bit of wonderful skill by summer signing Alen Halilovic (70), after Gideon Jung had pressed well to win the ball. The way he did so was "textbook" according to the coach who added: "We want to see that more often."
Reaching round 2 of the DFB Cup was an important step for team development. The cogs are beginning to turn together as recent results show. Competition for first team places is also a contributing factor. Keeper René Adler: "That competition is crucial for improving us as a team. Nicolai played well before he went off and then came Alen who scored the winner bringing extra quality to our game." The Rothosen are keen to take the winning feeling from Zwickau into their Bundesliga opener at home to Ingolstadt on Saturday (August 27, 3.30 PM): "It is always good to start the season with a win. Now we must remain focused and continue working hard", knows Labbadia.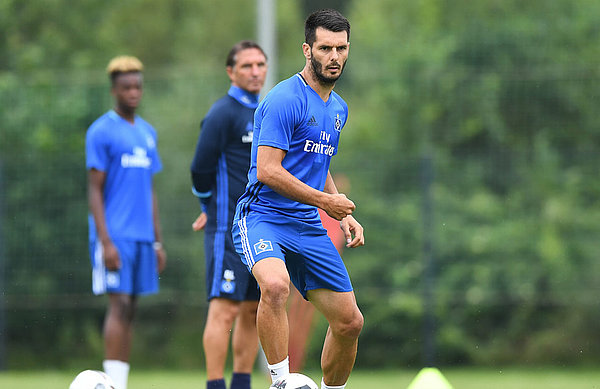 Team news: The team came through the cup clash unscathed, although Nicolai Müller needs a little time after taking a knock to the head: "It doesn't seem too bad", assured Labbadia the following day. Müller was taken off after 63 minutes as a precautionary measure in Zwickau and was replaced by match winner Alen Halilovic: "Being able to react by bringing Alen on was positive for us", said the coach.
"He has huge potential and is able to play in different positions. It is nice to have such alternatives." HSV are more variable now that the squad has increased in numbers. Injured first team regulars are also on the verge of a comeback, including defensive kingpin Emir Spahic: "It is impressive how quickly he has battled his way back. He could be an option for Ingolstadt", revealed Labbadia, who will not take any unnecessary risks with him and will carefully consider whether or not to play him: "His health comes first" confirmed the coach. The visit of Ingolstadt to the Volksparkstadion comes however too early for Albin Ekdal (recovering from a ankle tear). The same goes for midfield dynamo Lewis Holtby (broken collarbone).
Bundesliga opener against Ingolstadt: After winning in Zwickau on Monday night, everyone cannot wait for the Bundesliga matchday 1 clash at home to Ingolstadt on Saturday. Despite the win on Monday Labbadia had a word of warning for his men: " We must not assume that things will automatically go well for us. We take the winning feeling into Saturday's game but must remain watchful." HSV are going through a stage of development which Labbadia wants to aid with positive results: "We have players with extraordinary skill in our squad which makes us flexible. Everyone has a chance of making the team to face Ingolstadt." Competition for first team places is always positive and although Ingolstadt have just appointed a new coach they are an experienced side who must not be underestimated.