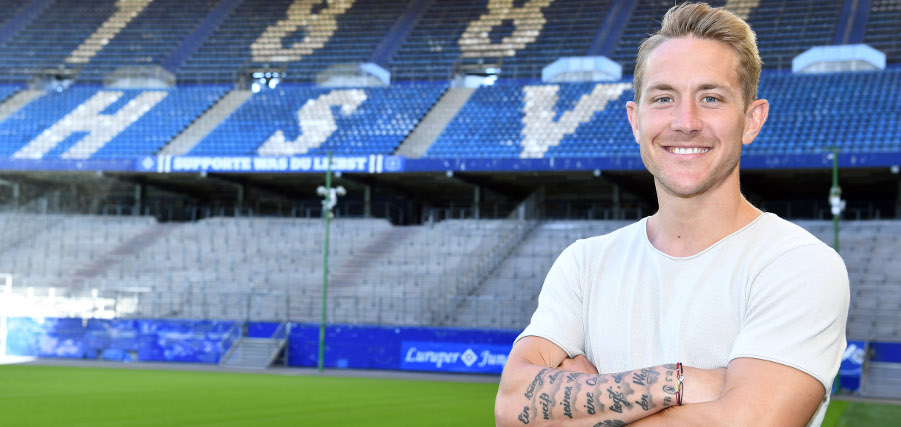 Lewis Holtby extends at HSV
THE 27-YEAR OLD MIDFIELDER HAS MADE A CLEAR STATEMENT BY EXTENDING HIS CONTRACT AT HSV TO STAY WITH THE CLUB IN THE 2. BUNDESLIGA.
HSV have made a big step forward in their squad planning, securing the signature of a key player: Lewis Holtby is officially staying at HSV and has extended his contract by another year. His previous deal was due to end at the end of the season.

Holtby developed into a key leader in recent weeks and months under head coach Christian Titz and shone with a number of stunning performances. With six goals in 16 matches he was HSV's leading goalscorer in the 2017/18 campaign – five of those coming in the final few matches under Titz. Even before his extension, the head coach made it known that he hopes to have Holtby for the new season in the second tier.
"It became clear to me very quickly that I would like to stay here. The last few weeks have been hard, but we have grown closer to our fans. I have lived this club with lots of emotions in the past four years and I will continue to do that. Now I want to prepare for the new season will full motivation. I'm happy that it all worked out with the new contract," said Holtby after signing his new deal. Club squad planner Johannes Spors also expressed his delight at the "strong statement" made by Holtby. "Lewis came straight to us to say he wanted to continue working with us towards our new goals. It was clear to him that this would only work under conditions that would be suitable in the 2. Bundesliga. It is a wonderful statement from Lewis, who feels greatly attached to HSV. He and the club have shared so many emotional moments together, they just fit well together. In Lewis and Christoph Moritz we have two players with quality and experience to serve as our pivots in the midfield, as well as playing really important roles in the dressing room."