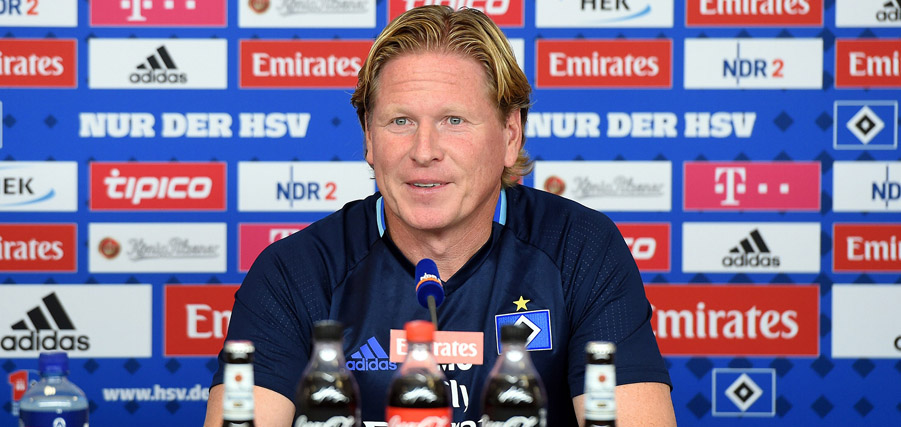 Press conference
03.11.16
Make the impossible possible.
Rothosen head coach Markus Gisdol discussed coming opponents Borussia Dortmund, team selection and HSV legend Uwe Seeler at the pre-match press conference at the Volksparkstadion on Thursday afternoon.
After losing 0-3 away to 4th placed Cologne on Sunday, the Rothosen have their hands full again as Borussia Dortmund visit the sold out Volksparkstadion (57,000) on Saturday on Bundesliga matchday 9. Borussia beat Sporting Lisbon 1-0 in midweek in a Champions League encounter. A huge task for HSV, although Dortmund have not always done well in Hamburg. A fact not missed by Gisdol who pointed out: "HSV have come out on top in difficult situations on many occasions in the past. We want to make the impossible possible."
Markus Gisdol on…
… Uwe Seeler's birthday: For us it is a tremendous honour as Uwe Seeler turns 80, to be able to play a home game against such a good and interesting opponent like Borussia Dortmund. I believe Uwe Seeler was the idol of many of our fathers. My first coaches always spoke about him, especially how hard working, approachable and friendly man that he is. An absolute role model for every athlete. It was nice to hear that on his last four birthdays we collected points. We want to use the positive feeling from the special birthday occasion and take his always give your all approach against Dortmund. We want to give him a good performance and a positive result for his birthday.
… the current situation at HSV: We are of course in a difficult situation, not helped by all the inuries. We must become more stable especially in the middle. It is of course not easy to being stability and continuity to the team when we cannot pick the same players often enough for us to gel and knit as a team. The constant changes were made for varying reasons but of course are not helpful. Mentality also plays a major role. Defeats hurt and can produce a bad feeling over time. It is important for the team that they are surrounded by people here with clear heads. We have to give them direction and go on.
… team selection: Things are still tight, but we do have options and will just have to wait until Saturday. Sadly Emir and Albin have not greatly improved the way we had hoped them to. We will try Ekdal in training today while we have no idea when Spahic will return. We can only wait and see.
… the visit of Borussia Dortmund: Games against them in our Volksparkstadion have always been good and exciting games. HSV have done well on such occasions against them in the past. We want to make the impossible possible. Past results are one thing but we know how tough it will be. Dortmund play a variable game and are tough to play against. Personally speaking I have fond memories of facing them. We beat them on the final game of the season and managed to avoid relegation. Such memories are a good thing to have and something we can talk to the team about.