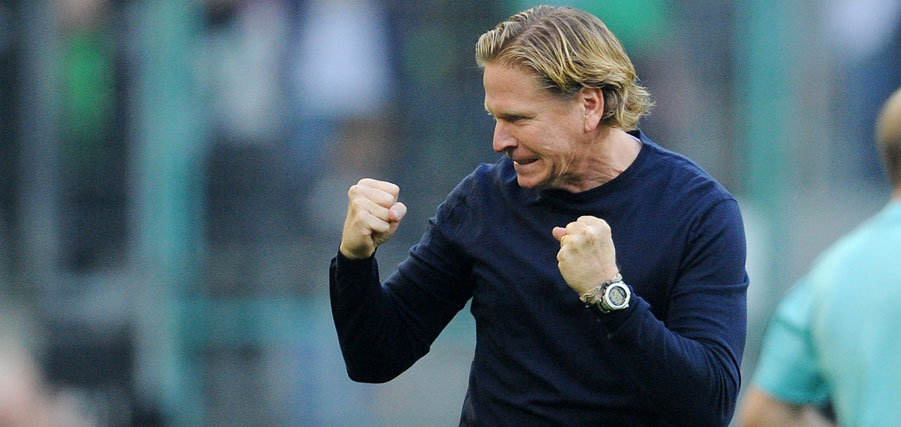 Markus Gisdol: "It gives us energy!"
New HSV boss Markus Gisdol was in ubpeat mood the day after his team had rode their luck to take a crucial point home with them following the dramatic matchday 7 goalless draw away to Borussia Mönchengladbach at the weekend. The coach though was already focusing on his side's next task – the impending home game against Eintracht Frankfurt this weekend.
Markus Gisdol was confident of success during the days leading up to the matchday 6 trip to the Borussia-Park – home of Champions League participants Borussia Mönchengladbach. He said: "We are a good side too and want to hurt Gladbach." Gisdol said the day after the game: "My team did well in Berlin last week but are now a step further on and deserved their success for the way they fought tactically and physically in that battling performance." Of course everyone knows how lucky the Rothosen were on many occasions but Gisdol pointed out: "You will never be able to prevent a class side like Gladbach from creating chances, and certainly not when you have to play around 70 minutes a man down."

"Well done my team!"
The infamous 25th minute during which HSV's Cleber was sent off for a dubious foul on Stindl at best. Rene Adler dived to his right like a Salmon to brilliantly palm the ball away for a corner. Gladbach's second penalty after an hour struck the crossbar. Both incidents were controversial and HSV were not happy at the time. Gisdol refused to be drawn on the subject, preferring to say: "I want to praise my team for the way they fought against adversity. They did a fabulous job."
Fight, passion and discipline mixed in with a couple of bits of rare luck saw the team take an unlikely point from the game. It was Gisdol's first point since he took charge last week. He added: "I won't over value this game because we all saw that we have room for improvement with regard to quickly switching from defence to attack. Even though it was tough with ten men and we had to focus on defence, we missed chances to hit them on the break. That said I view this game as a good step forward made possible by a gritty hard-earned bit of success which will give us energy."
Energy that the Rothosen will surely need as they entertain Eintracht Frankfurt at the Volksparkstadion in Hamburg in a matchday 8 encounter on Friday night (21.10.16, 8.30 PM). Gisdol: "We had amazing support from our travelling fans in Berlin and Gladbach, and the players repaid them by playing well. That was brilliant. That is why we are so much looking forward to Friday night when we will have 50,000 HSV fans will be right behind us." It is his first home game. He knows: "Friday night under the floodlights and then the support of our amazing fans. It is going to be quite a spectacle which all of my players are very much relishing. So am I, because my first home game as HSV coach makes it very special to me."