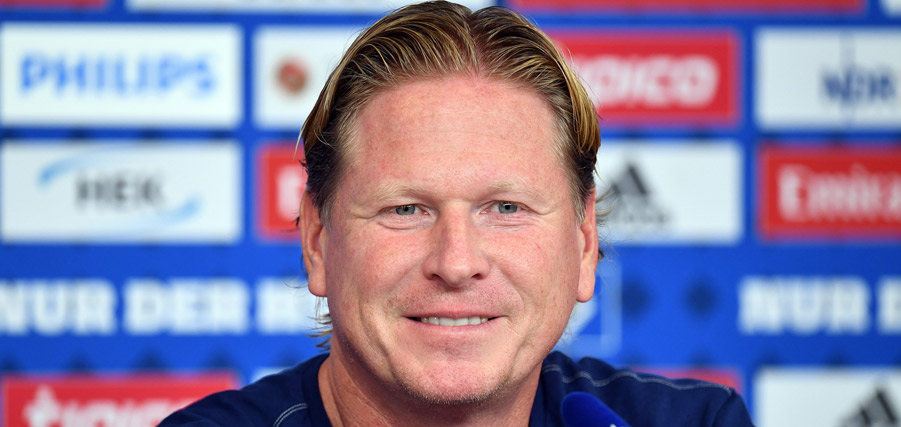 Mathenia in goal - "Bundesliga game" against Osnabrück
In the pre-match press conference ahead of HSV's DFB Cup trip to Osnabrück, Rothosen head coach Markus Gisdol revealed who his number one keeper is and what he expects against third division opposition.
Finally football again! When the camera teams decend on the press room inside the Volksparkstadion and notebooks are at the ready you know that ist time for football again. As always the new season begins with round one of the DFB Cup. On Sunday (13.08, 3.30 PM) the Rothosen stay in northern Germany as they travel to third division side VfL Osnbrück in round one. The hosts have already got four full games under their belts: "Which doesn't have to be an advantage. On the other hand it is time to get things rolling again. We know what to expect and are fully focused", Gisdol told the gathered media.
HSV reached the quarter final stage last season: "Of course it would be nice to repeat that again this season but it all depends on the luck of the draw and form on matchdays, which is why we are only focused on round one and will treat it like a Bundesliga game" explained Gisdol.
Markus Gisdol on…
… transfers: We have slimmed the squad down, putting emphasis on character, mentality and hunger for success. We want t team who can hopefully please fans in every game by playing to their limit. That allows you to have occasional poor results. That is the base on which we want to build.
… team news: Luca Waldschmidt is the closest to attaining full fitness. We will have to wait and see if it makes sense to take him with us on Sunday. His progress is heartening and I am looking forward to welcoming him back. The cup game comes too early for Kostic though.
… development: We must not lose the things which made us good last season as we beat much better teams than us by being one of the best teams at pressing. That was one aspect we did well in. We must find solutions when playing organised opposition. In those games you get fewer chances and goals. We must switch from defence to attack quicker and work on other things too.
… the keeper question: Christian Mathenia will be our first choice keeper in the new season. I discussed it with him and Julian yesterday. The decision was made in a sporting manner which is most important. Chris performed slightly better in pre-season and Julian took it like a pro. So Chris has got the nod although I would not hesitate to use Julian this weekend.
… the cup clash: Usually in the cup Bundesliga sides like to avoid second or third division opposition because they are well into their season so are in good shape and have found their rhythm. That is not always an advantage though. We know what to expect and totally focused. We approach this game like a Bundesliga match. Their small ground will be a cauldron of emotion. It is a tough task which we plan match up to.
… cup goal: We are only taking things round by round. How far you progress depends on getting a lucky draw and of course form on the day. The DFB Cup is always special and well worth giving your all for.