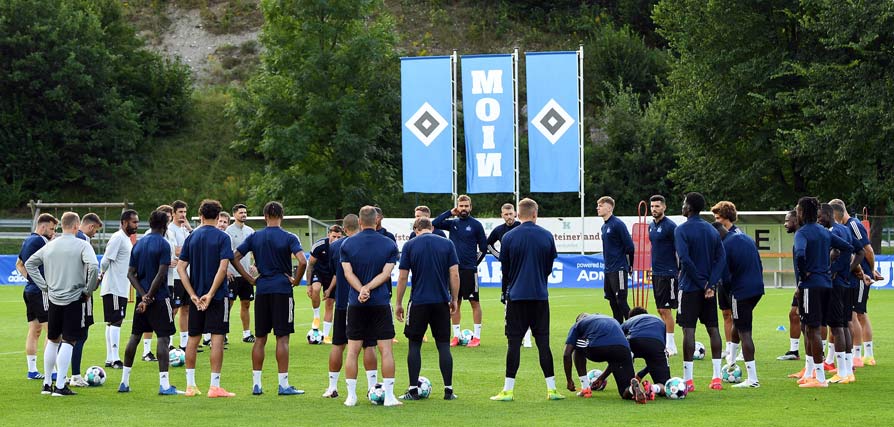 Moin Bad Häring! Training camp begins in Austria
27 first-team members and coaching staff have set up camp in northern Austria for the week, with two friendlies and a host of intense training sessions on the agenda.
The Austrian Alps tower over the 2,774 inhabitants of Bad Häring in the Tirol valley, and whilst the 'Das Sieben' hotel is in the perfect position to admire the views, other things were on the mind of the HSV contingent as they arrived in northern Austria on Monday. The 27-strong squad want to continue to lay the foundations for the season ahead, and got to work straight away with an hour-long session directly after arriving at 5:30pm, having taken a plane to Munich airport and a bus for the short hop across the border. "The walk from the hotel to the training pitches is minimal, the conditions are perfect. We can work well here," were sporting director Michael Mutzel's thoughts whilst the first team completed their first session of the camp. Jan Gyamerah, Ewerton, Sonny Kittel and Gideon Jung were all able to fully take part in the session, a positive for Daniel Thioune having seen the quartet sit out partly or entirely from training over the past few weeks.
In the coming days, the Rothosen's coaching staff are looking to fine-tune the attacking side of the game, having worked predominantly on defending so far in pre-season. Whether the hard work bears fruit will be tested when Thioune's men come up against familiar foe VfB Stuttgart on Wednesday afternoon as part of the Helden Cup (kick-off 4:00pm CET). The next test follows swiftly after with the second and final fixture of the tournament, coming up against 15-time Dutch champions Feyenoord (kick-off 4:00pm CET). Both games will be shown live and exclusively on ServusTV, whilst the full 90 minutes will be available after the final whistle on HSVtv.
The squad for the training camp
Goalkeepers: Heuer Fernandes, Mickel, Oppermann, Pollersbeck
Outfield players: Amaechi, Ambrosius, David, Dudziak, Ewerton, Fabisch, Gjasula, Gyamerah, Hein, Hinterseer, Hunt, Jatta, Jung, Kinsombi, Kittel, Leibold, Narey, Onana, Opoku, Terodde, Vagnoman, Wintzheimer, Wood