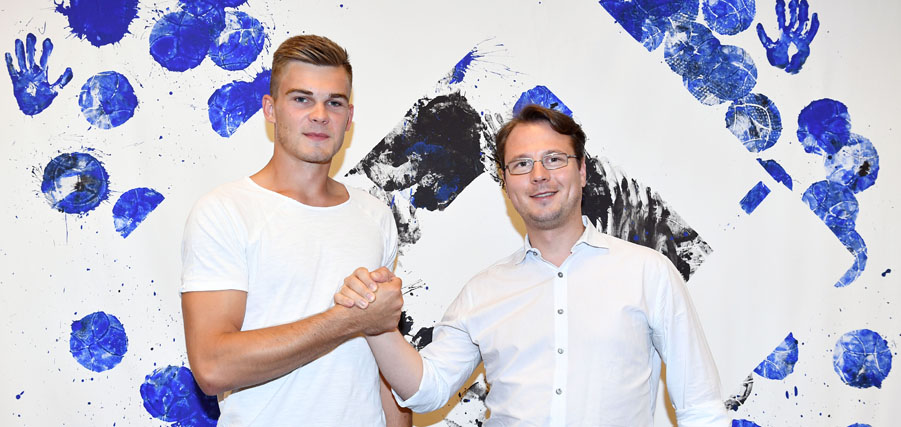 Morten Behrens signs professional contract
THE 21-YEAR-OLD, WHO HAS BEEN PART OF THE HSV ACADEMY SINCE 2013, COMPLETES OUR GOALKEEPING TEAM FOR THE COMING SEASON.
Hamburger SV has promoted a goalkeeper from the academy to the first team, as U21s keeper Morten Behrens signed a two-year contract earlier today on 7th June 2018. The 1.93m tall shotstopper will be part of the first team squad in the coming season, completing the goalkeeping team alongside Julian Pollersbeck and Tom Mickel.
Behrens joined the club in 2013 from the VfB Lübeck academy and made 27 appearances for the U21s in the Regionalliga Nord last campaign, keeping nine clean sheets. "Morten developed greatly this past season and deserves the chance to be called up as the third-choice goalkeeper in the first team. He has a huge capacity for learning, so we're confident he will be able to make the next step," told HSV squad planner Johannes Spors. The 21-year-old is also delighted with the new challenge: "I'm pleased that I can stay at HSV. The last five years have been a great time for me and I hope that things can get better. We have a big goal ahead of us and we all want to achieve that. I personally want to learn as much as I can from Polle and Tom and take as get lots from this chance."
Behrens becomes the player to be promoted from the HSV academy this summer; another demonstration of the club's positive youth development work.