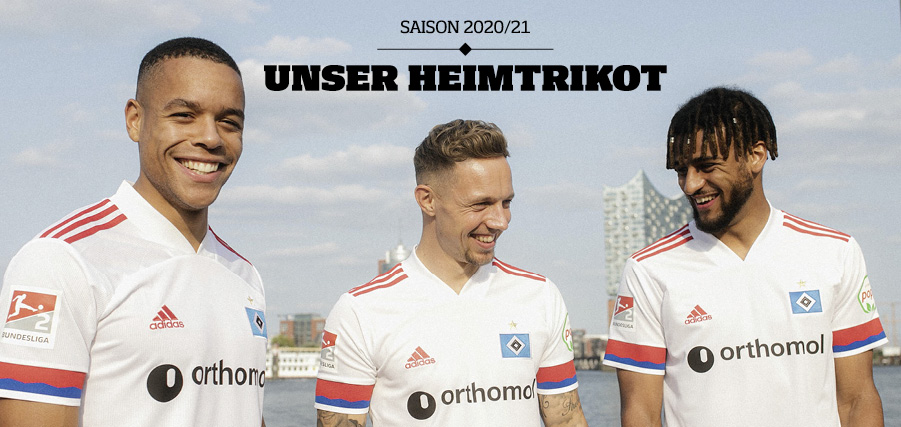 New home kit 2020/21: Inspired by Hamburg, backed by the Volkspark
The new home kit, with a wave pattern on the arms inspired by the Hamburg waterfront and the co-ordinates of the Volksparkstadion on the neck, is available to order now via the HSV online shop.
+++ You can buy the new home kit here +++
Hamburg – Hanseatic city, port, gateway to the world. Every day various boats of all shapes and sizes sail up the river Elbe from the North Sea and call into the third biggest harbour in Europe. Hamburger SV has been anchored in the city for almost 133 years and displays this strong connection on the club's new home shirt for the 2020/21 season. The arms of the jersey, which is made from an innovative new material, are covered in a blue and red wave pattern, inspired by the boats on the Elbe. An additional highlight are the co-ordinates of the mid-point of the Volksparkstadion which are printed on the neck: 53°35'14'' N 9°53'55'' O.
The new home kit for the 2020/21 season is now available to pre-order. However, the Hamburg faithful will have to be patient, as even when the club's kit manufacturer Adidas started the finishing touches to the kit after the new main sponsor was announced on Friday (11th September), this will take a bit of time. Pre-ordering the kit is worthwhile though. Not only will fans be the first to say that the new kit is their own, but they also receive a free name and number on the back of the shirt for every pre-order, as delivery may take up to 24 working days.
As soon as the home kit is available in the fan shops we will let you know via the club's website and social media.