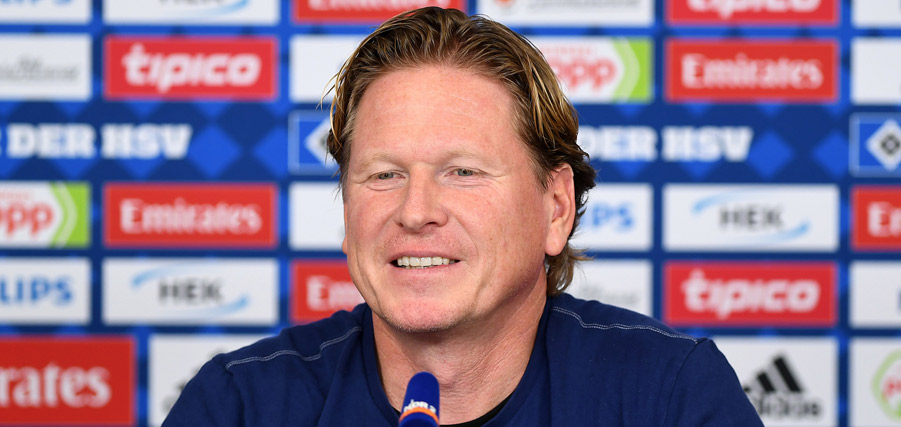 Press Conference
29.11.17
"Now it's time to deliver"
Markus Gisdol gave his thoughts on the away game in Freiburg, Filip Kostic's form and Hamburg's tactical flexibility.
It was a quick press conference ahead of Friday evening's away game against Freiburg. "We've said a lot about away games in past weeks," said Markus Gisdol. "This time it would be good to talk less and deliver." The head coach left a similar message to the one he shared after the TSG game. Stay hungry and don't let up for a moment. That's the team's motto going into the next match. After five losses in a row on the road, it's time to come away with points. This time with 2,500 fans on tow, the Rothosen will travel with another full away contingent in the Bundesliga.
Markus Gisdol gave updates on…
… injuries: We're assessing Albin Ekdal day by day. He's returning from a long-term injury so we'll see if it makes sense for him to play on Friday. Bakery Jatta was sick yesterday, but returned to training today. Andre Hahn will definitely be ready. Salihovic has a stomach problem, so we'll have to see how that develops. He was in individual training yesterday, but Bobby Wood returned to normal training today after hurting his ankle against Hoffenheim.
… Friday's match: We've talked a lot about away performances in past weeks, but now it's time to start achieving something. That's not just for me, but for the whole team and for individual players. It's still only matchday 14, so Friday's game doesn't have a massive effect on the league table.
… SC Freiburg: Freiburg away is always a tough battle. They have real energy at home, often winning points thanks to a highly passionate and aggressive playing style. I'm expecting an intense match. We'll see who comes out on top in the end. I think it will be quite open.
… Filip Kostic's form: He's been recovering step by step since his injury, but I think he's in a good place now. We appreciate what he contributes to the team. It's always the case that injured players need a certain amount of time until they're back at the top level and we definitely missed Filip w. It's great that he's back and hopefully he can stay fit until Christmas.
… playing with both Arp and Wood: It could be an interesting tactic both away and at home. It will depend on how we want to play. Either way, it's a good option to have. The same with when we brought on Rick van Drongelen, how we can swap with playing three or four at the back. We've worked long and hard on the training pitch to be able to have those different options.