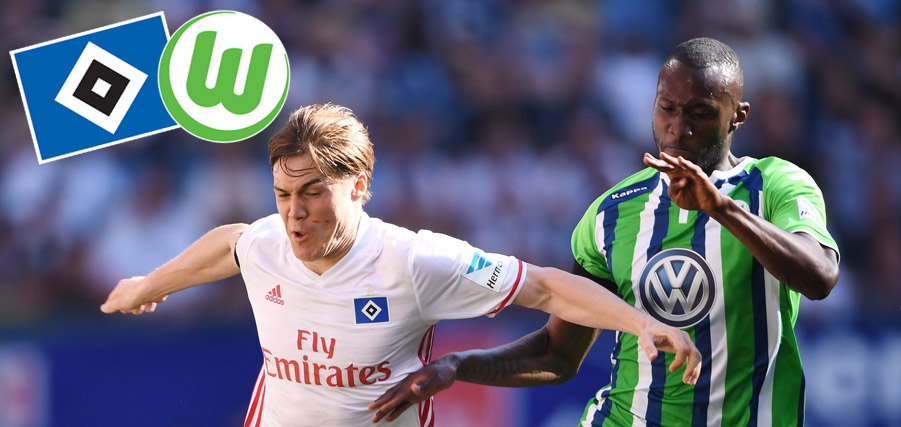 Pre match report
19.05.17
One last monumental push
HSV are keen to win the final home game of the season on Saturday. Head coach Markus Gisdol hopes for key players to return.
The sums are very simple as the final Bundesliga game of the season looms. Should HSV beat VfL Wolfsburg at the sold out Volksparkstadion in Hamburg on Saturday afternoon (20.05.17, 3.30 PM), they will be playing top flight football next season. A draw or indeed a loss would see the home side have to endure yet another relegation play off two-legged nail biter as has been the case in recent seasons.
"We will give our all"
For HSV the game marks the end of what has been a season-long chase which recently was considered successfully run only for it to come down to the last game of the season. Gisdol told the media at the pre-match press conference on Thursday morning (18.05): "We earned this great chance after staring adversity down for so long. For the first time in an age, we finally have a game in which we can only win because nothing else can happen below us in the table. We have fought adversity on many occasions and have a final chance to save ourselves and turn around what at times seemed a hopeless situation. We want to take that chance with the right blend of humility and gratitude."
VfL Wolfsburg will be trying to instil clarity and calm to their men ahead of the big game. Nobody there fancies two relegation play off games: "I am someone who talks a lot to my players. Everyone knows that a point is enough to save us. None of us can wait for the game to begin", said VfL coach Andries Jonker this week.
All for one…

Both coaches are counting on the support of their fans. VfL are expected to bring around 5,000 travelling fans with them for the short trip to Hamburg. Gisdol earlier this week: "It is our job to start the fire and through performing well create a great home atmosphere. Our fans have always been right behind us." The Volksparkstadion has been sold out for weeks and the club staff are also rallying behind the team, all posing in their HSV shirts at a photo shoot on Friday.
Gisdol is hoping for the return of key players to the team – especially top scorer Nicolai Müller (5 goals/7 assists) who has made the squad after missing recent games with a knee injury. He had to end traini9ng sessions early during the week so it is not yet known whether or not he will start the game. Aaron Hunt, HSV's top scorer in 2017 with 4 strikes to his name and long time absentee Albin Ekdal are fighting hard behind the scenes in order to become fit in time for the most crucial game of the season. Out and out striker Pierre-Michel Lasogga – injury time hero at Scahlke last weekend will play no part on Saturday. The former Hertha front man has been ruled out with a knee injury. Regular full back Dennis Diekmeier is suspended for a fifth booking.
VfL Wolfsburg are without ex-HSV Dutchman Jeffrey Bruma who is recovering following knee surgery, as well as Paul Seguin, who yesterday sustained a calf injury and the suspended Riechedly Bazoer (5 bookings). Ricardo Rodriguez is considered doubtful.
"We have a huge chance"
In the end it is all about a game of football. Well almost… If so much was not depending on the game with so much at stake for both teams it could be called that. Thing is though that HSV could occupy that dratted relegation play off spot. Nobody wants that.
The stage is set. Now bring it on!