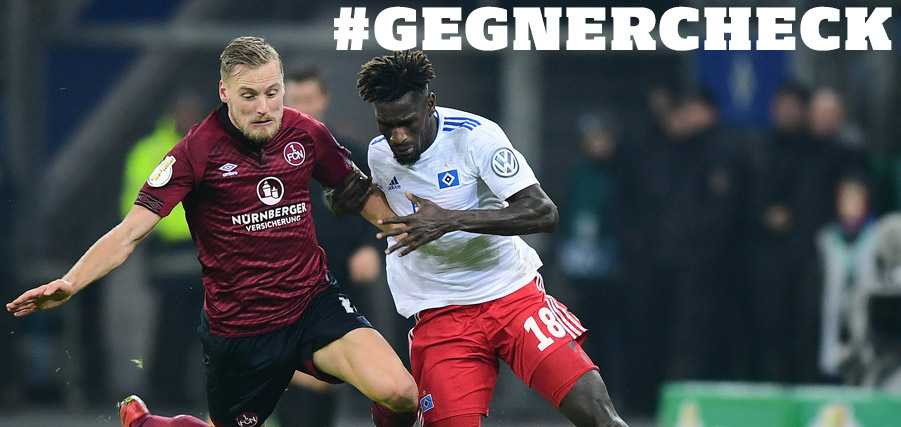 Opposition Scout
05.08.19
"I always check up on how HSV are doing"
Hanno Behrens is the beating heart of 1. FC Nürnberg. HSV.de sat down with the 29-year-old midfielder, who wore the famous red shorts for the first seven years of his professional career.
When a professional footballer plays in 129 of a possible 137 league games, first of all, it says something about his physical make-up as an athlete. On the other hand it also makes it clear how highly the player is regarded in a sporting sense by the club that he plays for. When that man also leads the team out onto the pitch every week, then it's safe to assume that he's a key player for his chosen team. Hanno Behrens certainly falls under all three of these categories for 1. FC Nürnberg. Since his move to the 'Club', as they are known in Germany, in the summer of 2015 the midfielder has only missed eight league games, getting the nod from the first whistle in 127 of his 129 appearances.
An impressive record, which has its roots in the Hamburg area. As Hanno Behrens was born on the 26th March 1990 in Elmshorn, at the gates of Hamburg, it is unlikely his parents would have predicted his future choice of employment. For the first 15 years of his young life, the blonde-haired Behrens represented Raspo Elmshorn, with his performances impressing the watching HSV scouts, who managed to get him to put pen to paper in the summer of 2005 for his first professional contract. After three years in the u17 and u19 teams, the then-19-year-old forced his way into contention with the first team, although not quite being able to make his full professional debut for the Rothosen at that point.
Making little headway in Hamburg and looking for a fresh challenge the robust defensive midfielder signed for SV Darmstadt 98 just before the start of the 2012/13 season, spending three years in Hessen and crowning his time with the scarcely believable promotion to the Bundesliga in May 2015. With his contract having run out in Darmstadt, the Northerner upped sticks and moved south-west to Bavaria, signing a three-year-contract at 1. FC Nürnberg.
In Franconia the 1.88m-tall central midfielder finally made the most of his potential, developing into one of the best players in the league, with his dominance in the air and on the ground proving too much for many a second, and first, division opponent. Behrens became a force to be reckoned with coming forward as well, tying it all together in 2017/18 to score 14 goals and play a large role in Nuremberg's promotion to the Bundesliga, fulfilling a childhood dream in the process on the 25th August 2018 as he led his team out at the Olympic Stadium in Berlin for his first Bundesliga game. 33 games later and the outlook for the man from Elsmhorn wasn't quite so rosy, with his four goals and three assists not being able to prevent relegation at the first time of asking from the top tier.
The 2018/19 season also had another bitter pill to swallow for Behrens, as, during his first ever visit to the Volksparkstadion as an opposing player, his team exited the DFB Cup at the quarter-final stage, with Berkay Özcan scoring the only goal of the game. His second ever meeting with the Rothosen awaits on Monday night, and the 'Club' captain sat down with HSV.de before the game to talk about his past, present and future.
You spent seven years in all in Hamburg but never quite managed to make it over the white line for the first team. Do you look back on your time at HSV fondly?
Hanno Behrens: Even though I didn't manage to play a game for the first team, I still look back very fondly on my time at HSV. I learnt a lot and as a young HSV fan it was obviously a real pleasure to play for the club that I supported, even if it was only for the second team. Particularly whilst playing for the youth teams it was really nice, I had lots of good teammates.
Talking about teammates, with Christian Mathenia, Törles Knöll and Fabian Nürnberger there are three additional Nuremberg players who also used to play for Hamburg. Particularly in the week leading up to the game, will HSV be talked about in the changing room?
Of course we talk about HSV a lot, but not just with the three lads who have played for them, with everyone in the changing room. In the week before the game you always talk about the upcoming opponents.
In the past few years you have become a real attacking threat as a midfielder. Did you consciously work on it or is it something that has naturally developed?
After training is finished I always like to work on my finishing but I think that I've always been dangerous as a midfielder, even when I was playing for the HSV youth teams. I scored a number of goals from midfield during the earlier stages of my career.
You haven't played with any other teammate more often than Tim Leibold (106 games). What do you make of him as a player and as a friend?
Tim Leibold is a great guy and whilst he was here in Nuremberg we became close friends and even went on holiday together. For us it's a shame that he's gone, both in a sporting sense and as a teammate, because he's a top-quality player. Him leaving us hurt us as a team but I think we've still got a good squad.
After relegation Damir Canadi was appointed as the new Nuremberg manager. What has he done as a manager so far that has particularly impressed you?
The manager wanted to bring fresh impetus to the squad. Since he started he's always set his sights on the future, rather than delving too deep into the past. To get last season out of the collective psyche was very important and now we can all look forward to the season together.
HSV has also seen lots of changes during the current transfer window, already having signed eleven new players. What do you make of the developments at your old stomping ground?
I think it's a very exciting time at HSV. Just because it's the second year in the second division that doesn't mean that it's going to be any easier, particularly because there a number of good teams in the 2. Liga this year. Of course I always check up on how HSV are doing. I think there have been a number of good signings, sadly from us as well, but also players that know the division inside out. From that perspective I think they've been good purchases so far.
Monday is your second-ever game against HSV, with the first one going Hamburg's way in February. What are your expectations for the game on Monday?
I'm really looking forward to the game, this time we're playing at home as well. I think it will be a different game to the DFB Cup game we saw in Hamburg last season. That was during a phase when we weren't playing well at all and didn't put in a good performance that night. On Monday it's going to be a completely different game, we're going to be ready and waiting. Obviously I hope that the three points stay here in Nuremberg.
Nuremberg are one of the promotion favourites alongside HSV this season. What do you make of both sides' promotion aspirations and what would be your ideal final standings come Matchday 34?
The chance for both clubs is certainly there. I think Stuttgart are clear favourites for the league and then behind them are three big, traditional clubs in HSV, Nuremberg and Hannover. But you never know. It will be important to start well and then keep on producing the results. For me personally it would be nice for us and HSV to be promoted. As a former Rothose myself I'm crossing my fingers that us and HSV get promoted. Best-case scenario would be us as champions and HSV as runner-up.