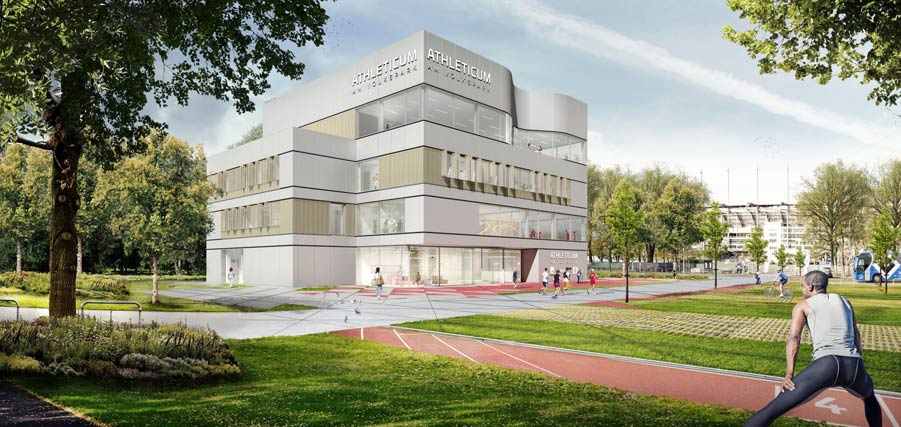 Plans for medical centre at Volkspark enter final stages
Investor found, building lease completed, lease contract signed: UKE, HSV and Philips can now start the detailed planning for a state-of-the-art sport medical centre.
The university hospital in Eppendorf (UKE), HSV Fußball AG and the health company Philips are starting a sporting medical centre at the Volkspark, a trend-setting and unique co-operation project in Germany between three such parties. The plan is for a sporting medical centre a stone's throw away from the Volksparkstadion next to the HSV academy, open for all people active in playing sport, from people who play sport in their free time to professional athletes. The centre will be managed by the Athleticum am Volkspark GmbH, a joint corporation from all three partners.
The innovative concept should be completed in a building directly next to the Volksparkstadion as part of the current Yellow car park, arriving via Schnackenburgallee. It is planned that building begins next summer and that the 5,000m2 space is finished by the first half of 2023.
Frank Wettstein, board member of HSV Fußball AG, is positive about the co-operation between all of the parties involved. "We're also very happy to bring the medical centre to life with two Hamburg companies and top players in their respective fields, optimising the medical care provided for our players in the process. However, the centre won't just be available for top-level sportsmen. The medical centre should offer preventative advice, diagnosis and treatment in a sporting environment to the public have a sustainable influence on Altona, Hamburg and the whole region."
About the medical centre at the Volkspark
The medical centre at the Volkspark brings strong partners together on site and delivers top-class medical care thanks to interconnected competencies as well as the most modern medical and digital equipment. The aim of the partnership is to reach a new level in sporting medical care and establish the 'Athleticum am Volkspark' as a leading centre for sport and fitness with innovative health solutions. The medical centre offers its patients professional and round-the-clock care for the whole spectrum of health in sport, from prevention and early diagnosis to therapy and rehabilitation. The university hospital in Eppendorf and Philips as medical partners will drive the future of interconnected digital health care as part of the partnership, whilst HSV will bring its long-standing expertise in professional sport to the table. As such the structures and processes of medical and physiological treatment for a professional sports teams will be available for all of the patients at the Volkspark. Dr. Goetz Welsch, head doctor at HSV, will also be medical director at the Athleticum.
Image credits (top): Spine Architects