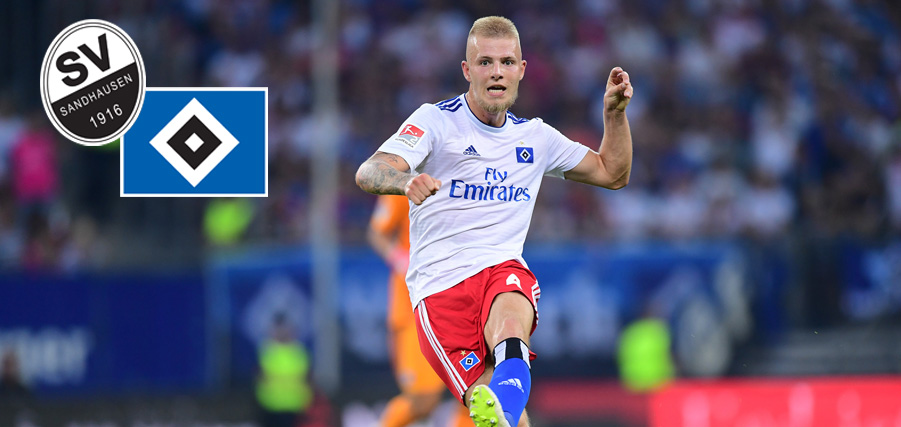 Pre match report
11.08.18
Play our own game in Sandhausen
Hamburger SV pay a visit to SV Sandhausen on matchday 2 of the 2. Bundesliga season. Die Rothosen can expect a special atmosphere down south, but the only thing that counts is getting the points.
Special conditions await HSV on their first trip to Sandhausen – a small town of 15,000 inhabitants just seven kilometres south of Heidelberg – on Sunday afternoon. It's the smallest destination in the 2. Bundesliga and space is a little tight in the stadium too. The away dressing caters only to the absolute bare necessities, with 20 seats and a tiny communal shower – a real throwback to the good old days. But none of this will matter to the 18-man travelling squad on Sunday. "I played in Holland where the clubs and stadiums are sometimes even smaller. It really doesn't matter, as we need to play our own game," explained central defender Rick van Drongelen.
TWO NEW FACES, HUNT AND STEINMANN RULED OUT
Following the disappointing 3-0 defeat to Holstein Kiel at home on matchday one, the pressure is high on Titz and his men. Die Rothosen are determined to show a reaction in Sandhausen, as was clear to see from their body language this week. "The disappointment after Kiel was really big. The changing room was completely silent at full time. Nobody knew what to say. It wasn't until the next day that we analysed and solved the problems," told van Drongelen. The key take away from the analysis was to focus on our own game. Because even the harshest of critics will have had to admit that in the first half HSV dominated their visitors with a hatful of key chances and seemed on a good road to victory. All that was missing was a goal, as the young Dutchman admits: "We started well, but eventually stopped playing our game and gave Kiel the opportunity to win." The team needs to believe in its own game plan and show exactly that on Sunday.
Once again, HSV will be out captain and key player Aaron Hunt for the trip to Sandhausen. The 31-year-old is recovering from a calf injury picked up in pre-season and his wait for a first appearance of the season is extended for at least another week. "It goes without saying that Aaron is an important player for our game," HSV coach Christian Titz told earlier this week. Matti Steinmann will also miss the match due to a reason thigh injury. New signings Orel Mangala (20) and Léo Lacroix (26), who both arrived at the club this week, are both available for selection. Albin Ekdal and Filip Kostic have been given the weekend off to conduct negotiations with other clubs.
"WE CAN'T COMPARE OURSELVES TO HSV"
SVS head coach Kenan Kocak is refusing to underestimate HSV following last week's 3-0 defeat in Kiel, telling journalists: "Despite how it has portrayed in much of the media this week, I didn't see a bad Hamburg side on matchday 1. HSV had a clear idea and alongside their Plan A, they have a Plan B and C, in their locker." Sandhausen are also looking to put things right following their 3-1 defeat to SpVgg Greuther Fürth on matchday 1. Head coach Kocak was hit with the unfortunate news earlier this week that both striker Karim Guede (33) and midfielder Nejmeddin Daghfous have been ruled out for the foreseeable future with injuries. "It's a real shame. Both have made a very good impression in training and were important figures in my plans for the coming weeks. But if there's any team that can cope with a setback like this, it's us."
"We're not travelling to Sandhausen as the great HSV, but rather as a team that must do everything to win the match."
Despite taking note of their opponent's playing style, van Drongelen insists that his team must focus on themselves. "We must not look too much at our opponents. Of course you take some time ahead of the match to analyse the opponent, but in the end it's about how we play. This time we need to score the goals." HSV sporting director Ralf Becker echoed these statements. "We're not travelling to Sandhausen as the great HSV, but rather as a team that must do everything to win the match."
More than 4,000 HSV fans will be travelling to support their team in Sandhausen.
Matchday squad
Goalkeeper: Pollersbeck, Mickel; Outfield: Bates, Douglas Santos, Ferati, Holtby, Ito, Janjicic, Lacroix, Lasogga, Mangala, Moritz, Narey, Sakai, Samperio, Vagnoman, van Drongelen, Wintzheimer
Possible Sandhausen XI: Schuhen - Kister, Karl, Zhirov - Klingmann, F. Müller - Linsmayer, P. Förster, Zenga - Schleusener, Gislason
Referee: Tobias Welz (Wiesbaden)