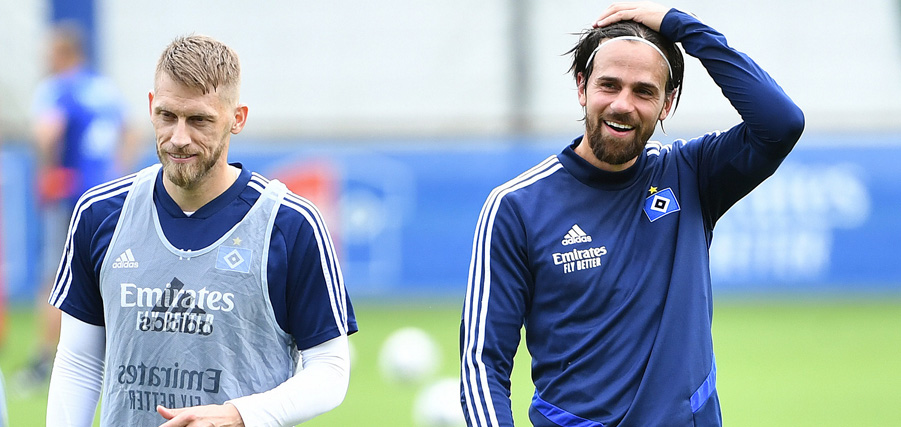 Preparation for Dresden – Hunt and Harnik back in action
Aaron Hunt and Martin Harnik returned to the fold on Monday, taking part in training with the rest of the squad. Whether they will be fit in time for Dynamo Dresden will become clear over the coming days.
Three days of rest and recuperation lay between Thursday's friendly against Aalborg BK and the start of a new week, with both playing and coaching staff enjoying a well-earned break from competitive football. Monday saw the preparations for the upcoming home game against Dynamo Dresden (Saturday, 1:00pm) gather pace, as the squad entered the new week keen to carry on the strong run at home. Long-term injury candidates Jan Gyamerah and Josha Vagnoman continue their rehabilitation, whilst Adrian Fein, Rick van Drongelen, Lukas Hinterseer, Xavier Amaechi and Jonas David remain on international duty. The register was otherwise complete, meaning that Aaron Hunt and Martin Harnik returned to full training, after both having to work with rehabilitation coach Sebastian Capel over the past few weeks due to strained thigh muscles. "I think you can see with both of them that they're not quite at 100%. They have to make the most of the coming week, but everything was ok today in terms of their injuries," manager Hecking explained after the session. The 54-year-old will be hoping that his two most experienced pros will be ready and waiting for time on the pitch against Dynamo on Saturday.