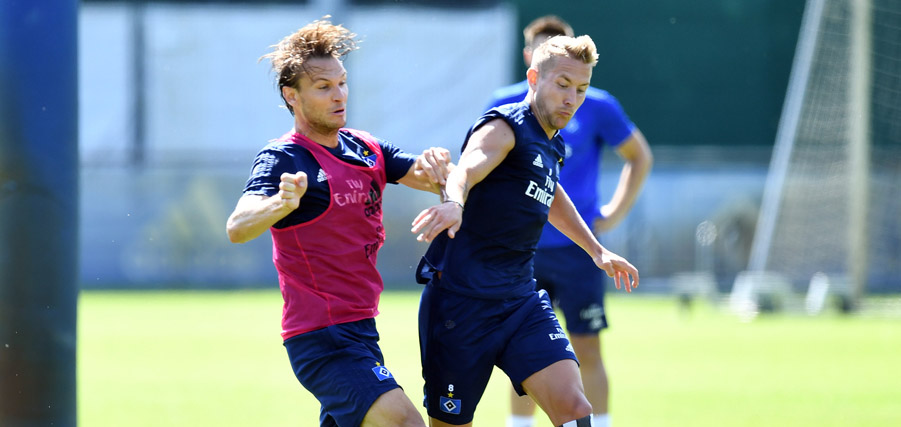 Preparation for Sandhausen begins
HSV coach Christian Titz was able to welcome back Bakery Jatta, Moritz-Broni Kwarteng and Stephan Ambrosius on Monday, with all of them returning to training. Meanwhile, captain Aaron Hunt is still carrying a slight calf injury and didn't complete the full session.
After having a rest day on Sunday, the Hamburg players completed their first training session of the week on Monday morning in preparation for the league game against SV Sandhausen this coming Sunday (15:30 CEST). Bakery Jatta, Moritz-Broni Kwarteng and Stephan Ambrosius all returned to action. However, Aaron Hunt is still treading lightly with a slight calf problem, whilst Jairo Samperio could not take part in training at all due to a muscular problem.
The Rothosen who were fully fit put in 90 minutes of aggressive and committed training on Monday. With plenty of fire in their bellies from their recent 3-0 defeat to Kiel, the HSV players engaged in some final-third training before going into one-on-one duels and shooting practice. In another training drill on a smaller pitch, the boys didn't give anything less, before finally playing an 11v11 practice game where they could fine-tune their runs in behind and build-up play.