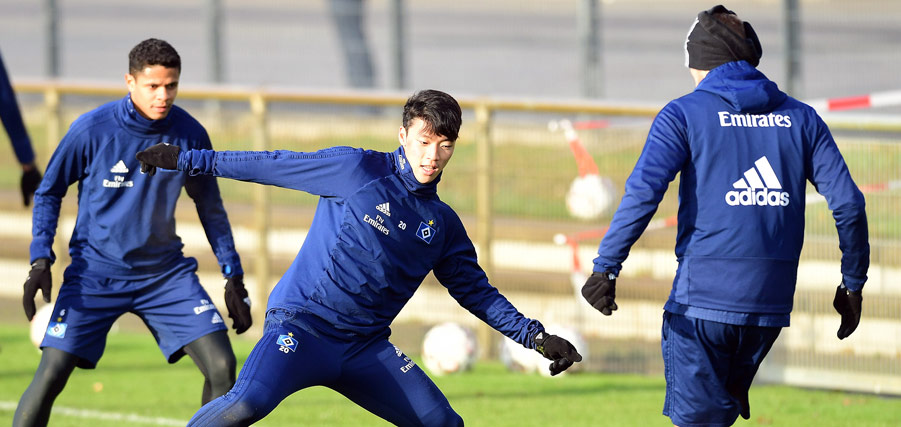 Preparations begin for trip to Duisburg
After a rest day on Sunday, HSV began a new week of training on Monday as the team prepare for Friday's trip to MSV Duisburg. There was also a visitor to training on Monday.
Three days after the 1-0 win over SC Paderborn in the final home match of 2018, HSV have begun their preparations for their penultimate match before Christmas away at MSV Duisburg on Friday (18:30 CET). Despite the bad weather, the Rothosen players trained on Monday morning and were in high spirits, giving everything they have to fight for a starting place. HSV head coach Hannes Wolf led the session and focused on various passing plays.
Wolf was missing those players who featured for the U21s on Sunday and captain Aaron Hunt, Tatsuya Ito and Vasilije Janjicic also didn't train. "Aaron has suffered a minor muscle problem and we will monitor his situation each day to determine when he can return to training. It could be soon but we make sure he is fit for Friday," explained Wolf regarding his captain's absence in training. The trio trained together in the stadium gym. Pierre-Michel Lasogga joined them for the session as he starts to return to full fitness. Those training in the gym certainly were not concealed from watching the session outside. HSV also welcomed Japanese goalkeeper Daiya Maekawa to the club for a trial. The 24 year-old plays for Vissel Kobe in the J-League and has spent the last week training with the U21s.
Monday's session lasted for around an hour. "We played on Friday evening and visited our fan clubs on Saturday. We've had a busy schedule, especially for the players. We wanted to use today for a more relayed training session," said Wolf regarding the shortened session. HSV return to training on Tuesday morning at 11:00 CET.