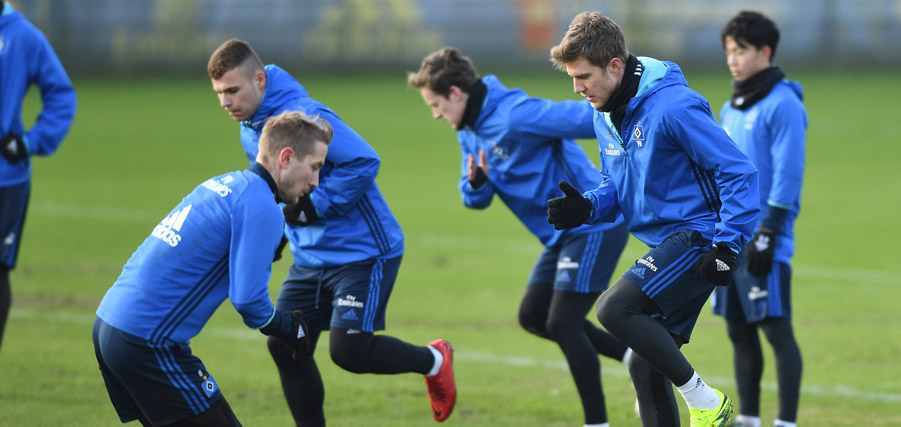 Post match report
11.02.18
Regain confidence through hard work
THE HSV TEAM WERE STRAIGHT INTO REGENERATION TRAINING FOLLOWING THE 2-0 DEFEAT IN DORTMUND, WHILE ON SUNDAY IT WAS BACK TO NORMAL TRAINING AT VOLKSPARK.
It was a familiar story to in recent weeks: at times HSV weren't far away from getting something from the game on Saturday afternoon. The Rothosen put on a brave fight against the clear favourites and reigning DFB-Pokal holders Borussia Dortmund. Bernd Hollerbach's team frequently looked to push forward and showed a lot more confidence than in recent weeks. That naturally led to more chances, but once again HSV struggled with the same old problems. "We were missing that final bit of efficiency in front of goal, while our opponents took their chances clinically," admitted goalkeeper Christian Mathenia at full time. Dortmund's new hero Michy Batshuayi opened the scoring early in the second half, before Mario Götze wrapped things up deep in injury time for the hosts. "We need to work on finishing our chances," criticised Hollerbach the post-match press conference.
Important for that is, according to the 48-year-old, is confidence, something which the team are currently lacking due to poor form. "We need to improve that by working hard and with focus in training, then I am certain that we can end the negative run," explained Hollerbach, paying particular attention to the attack and how impressed he was with the way HSV managed to match Borussia Dortmund for long spells of the match. It's exactly the level of performance the head coach will be expecting against next week's opponents, Bayer 04 Leverkusen.
More from our head coach...
…The match in dortmund: We played a good game yesterday. It's obviously frustrating that we couldn't get any points. Despite that, we've made progress in how we play football when you compare this to recent games. We played with more confidence and don't need to hide from opponents. If we play like we did against Dortmund, we'll start getting points. You always have tough games in the Bundesliga, it's always incredibly close. But we always have the opportunity to get all three points, every week. We need to be more clinical in front of goal. We're working hard on that in training.
…Personnel: It's good that we'll have Kyriakos Papadopoulos back against Leverkusen. I don't know yet if he'll be in the starting XI or not, we need to see how the week goes in training. He worked hard on his fitness because he couldn't play.
Lewis has sick the last few days, so I have kept him away from the team so that he doesn't pass anything on. We'll wait and see how things go this week.
Things are looking up for Nicolai Müller. I can't yet say exactly when he'll be back. I think in the next two weeks he'll be able to start training with the ball again. He's working very professionally and is completing an individual training programme. Nicolai is obviously a very important player for us and can be a huge help for the season run-in.
…Training: I always try to work individually with the players on their strengths and weaknesses and to use the coaches at my disposal. One player needs to work on his physicality, the other on his shooting, for example. Fiete Arp has been doing extra sessions with Rodolfo Cardoso to practice his shooting. Rodolfo is extremely important for our attacking players. I think the players can learn something from him; after all, he wasn't the worst attacking player. The most important thing is that the players dig deep, work with focus and regain their confidence in training.